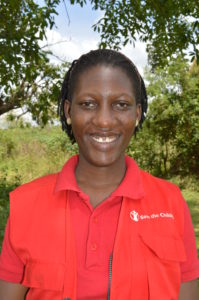 Agnes Nantamu
Senior Officer of Adolescent Development
Save the Children in Uganda
October 6, 2017
Gloria is a 13-year-old girl who lives in Namayumba, Uganda, with her mother and four siblings. She recalls the days before the sponsorship program started in her school as hard, especially the time when she first began her menstrual cycle.
As with many of the girls in her community, she did not have sanitary towels to use most of the time simply because her mother couldn't afford them, so she dreaded her period's monthly arrival. Most families in Namayumba have too little to provide even the most basic provisions for their children, like daily meals, so unfortunately – though they would have loved to provide these materials for their daughters – parents were unable to purchase them.
"I had to miss school because I was afraid that I would get embarrassed if my uniform got stained." Gloria says. This greatly affected her confidence as she was always worried about when her period would be approaching. It also affected her grades since she had to miss school for a couple of days each month. Like other girls in her community, without the proper materials to be able to sit comfortably through the whole school day, she had no choice but to be absent, despite her eagerness to learn.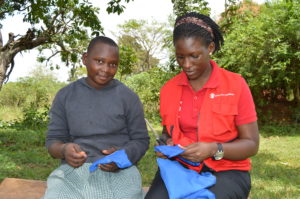 When sponsorship started the implementation of its adolescent development programs in Gloria's school, it provided disposable sanitary towels to all the girls that had started their menstrual cycle. Our adolescent development activities in Uganda aim to improve sexual and reproductive health of adolescents, as well as promote gender equity and overall improve the quality of life for children ages 10 to 19 years old.
"I was very excited to get the sanitary towels because I then did not have to be scared or miss school during my periods, but I was also a bit worried about what I would do when I had used them all up." Gloria recalls.
Since the disposable sanitary towels would eventually get used up and the girls would still not be able to afford to buy new ones, a more sustainable solution was introduced by Save the Children. Senior female teachers in each of the schools were taught how to make reusable menstrual pads, and also trained on how to teach menstrual hygiene management to their students. These teachers then trained the girls in their schools how to make the reusable pads themselves, and taught them how to manage their hygiene.
Many of the children did not have any hope of ever having a constant supply of sanitary towels and having a comfortable time during their menstrual cycle, but with the knowledge of making these reusable pads, this hope has been restored. "Having sanitary towels I can use more than once had never crossed my mind. After the lesson from Ms. Allen, our teacher, I went home and made myself some." says Gloria proudly.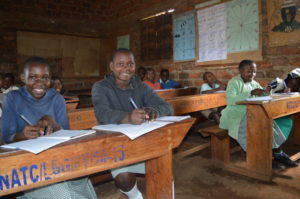 "Gloria is a much happier and more confident girl now. Her school attendance and grades have greatly improved." says Ms. Allen.
Gloria is exited and hopeful about the future and believes that now that she goes to school regularly, she will be able to achieve her dream of becoming a nurse. She is very grateful to the Save the Children sponsorship program for revitalizing that dream.
All the way from Namayumba, Uganda, please accept our dearest thanks from Gloria and her friends! Thanks to our sponsors, today they are happy to be back in school and learning comfortably.
Interested in joining our community of sponsors? Click here to learn more.