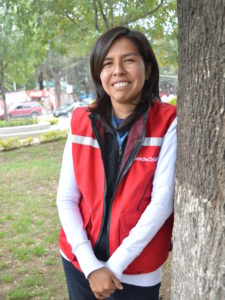 Ruth Carola Zambrana Valencia
Sponsorship Assistant
Save the Children in Bolivia
September 7, 2017
Children in Bolivia discover leadership in many ways. Some children may recognize their leadership skills during a school presentation, others may realize this on the playground or practicing sports. Unfortunately, for many children in Cochabamba, where sponsorship works, there aren't many spaces dedicated to strengthen and nurture these skills amongst children.
This was Lucas's case – a lively and bright 10-year-old boy whose leadership talents probably would not have been encouraged and developed if it were not for sponsorship support in his community. Fortunately Lucas now is part of Save the Children's Advisory Council.
"Being able to work with Save the Children is something extraordinary," says Lucas.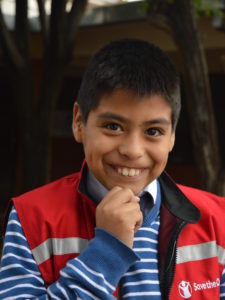 The Advisory Council is a group composed of children and adolescents that represent the nearly 50 schools sponsorship works with in Cochabamba, Bolivia. It has been set up to promote the participation of children in sponsorship programs so that they are not only beneficiaries, but also decision makers within and about the programs sponsorship helps to run in their schools and community. Their participation on the Advisory Council allows these children to have the opportunity to express their views and influence decision making. The council is an open and active participation space for children, where they are encouraged to share their opinions, reflect on different issues that affect children and most importantly, are listened to. The members of this Advisory Council are also part of the Children and Adolescent Municipal Council of Cochabamba, a group affiliated with local government. This an important space that allows them to influence public policies.
Lucas was a child selected by his peers for the council because he always is watching over the needs of others. Despite these social skills, Lucas's mom also recalls that before joining this group, he "was not interested in anything and didn't like to participate."
Lucas acknowledges that he used to be a restless boy, which he attributes to his energies not being channeled towards anything specific. Thanks to being part of the Advisory Council he began to see changes in his own life and in his self-esteem. Council members benefit not only in improving their communication skills at council meetings, but also can participate in workshops and conferences that strengthen their leadership and life skills. For example, the Advisory Council members organized and participated in the "For Our Rights" conference, held last year to celebrate the 27th anniversary of the United Nations Convention on the Rights of the Child – an international human rights treaty stating the rights of children.
"Now I am more educated… in school there were many changes. My schoolmates used to bother me a lot, [but] now that I entered the Advisory Council, they come to ask me for help, they tell me: Lucas, I need this. Will you help me?" he shares proudly.
His mother, Paola Daisy, also noticed changes in her son's life, and says that, "Little by little he has been integrating himself and being more talkative. He is interested in things that happen, he is motivated to do things and to achieve his ideas. He wasn't like this, before there wasn't any motivation, now he has more initiative, is more interested in knowing what is happening in school and around him."
Both Lucas and his family are very grateful for the support provided to his school through Save the Children and the Advisory Council, which strengthened his leadership skills and his ambition to achieve his future life goals.
All the way from Cochabamba – thank you, dear sponsors!
Interested in joining our community of sponsors? Click here to learn more.