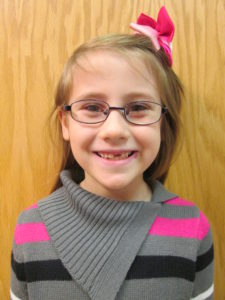 Rebecca Poehler
Program Operations Manager, U.S. Program
Save the Children U.S Program
September 20, 2017
In rural Kentucky where 26 percent of children live in poverty, children face many challenges at home and in school. But with help from our sponsors, our sponsorship program is giving children in the United States the skills they need to succeed, and the opportunity for a brighter future.
Sarabeth just started second grade and loves participating in the sponsorship program at her school. When asked how reading makes her feel, Sarabeth answered, "It makes me smart". You can find her reading her favorite book, Dinosaurs Don't Eat Broccoli, or dreaming of going to college and becoming a doctor when she grows up.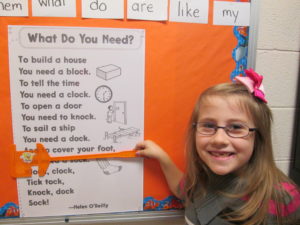 Sarabeth didn't always love reading. She was referred to Save the Children because her reading assessment scores were low and she was falling behind her peers. Since joining the program and getting the support she needs, Sarabeth has shown great improvements in more ways than just one. Her teacher, Mrs. Collins, reports that she has seen a difference in her reading comprehension, spelling and vocabulary skills. "I've seen much improvement in Sarabeth and look forward to seeing more at the end of this year," she says.
Sarahbeth has also developed confidence and social skills thanks to the sponsorship program. Her mother says, "I have noticed that she is becoming more confident and more willing to speak out." Sarabeth's mother says that her daughter now loves going to school since joining the program. "Save the Children is a great program! Sarabeth has made new friends, improved her schoolwork and has become more confident. It also allows her to be more socially active than 'regular' school does. It's good to see programs like this help our kids so much. Thank you!"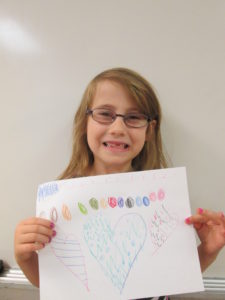 Sarabeth isn't the only child who has made great strides since joining sponsorship. Mrs. Jarvis, a Save the Children program coordinator, sees the difference in so many children who are developing a love of reading. "I am encouraging students to choose books based on interest and reading ability. We have book talks that students enjoy and are beneficial to them in understanding what they've read.  As a classroom teacher, that was not always possible as time was precious and there was always more to do than could be accomplished in a day! The Save the Children program is allowing children to develop a love of reading and allowing me to rediscover my love of reading also."
Sarabeth and so many children like her in Kentucky are making great progress, thanks to sponsors like you. We're excited to see where Sarabeth goes next – it seems like the sky's the limit!
Interested in joining our community of sponsors? Click here to learn more.