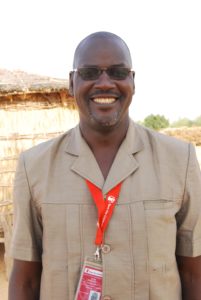 Boubacar Abdoulkader
Education Supervisor
Save the Children in Niger
September 16, 2017
In Tchadoua, a community in grassy flatlands in the southeastern part of Niger, the store houses are full of old millet stalks, a sign that the harvest has not met expectations this year. In this area, people live off agriculture – farming, herding and trading at a small scale. This lifestyle is often difficult as unpredictable weather patterns like drought, floods, or even locust attacks, cause unexpected challenges and hinder successful harvests. As a result, children are often involved in ensuring the family's survival, expected to assist in bringing in an income rather than attending school.
Today it is sunny and windy, although it's difficult to see with all the dust blowing in the air from the sandy ground in this area.
The school in Tchadoua is comprised of 5 small classrooms, among which one is made of concrete, two made of clay and the other two are simple sheds made of millet stalks and straw. The walls are bare and there are very few, if any, teaching materials to be seen.
Teachers here are very kind, they welcome us with cheers and friendly smiles. They are all very young, and most of them have not received any training on how to teach. Education in Niger is jeopardized by this, leading to a poor quality of education in schools and a very low level of pupils, as students have trouble staying engaged in lessons. One student out of ten in grade 4 can read the alphabet here.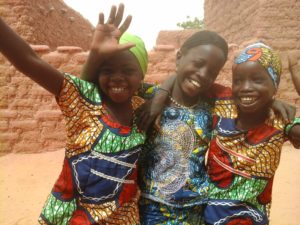 Such is the setting where Save the Children now implements its sponsorship program. Among the children struggling to learn in Tchadoua is 11-year-old Nana Rouwaida, twelfth child born of a family of thirteen. She is always joyful and smiling. Neither her struggles in school or the difficulties of her family's farming lifestyle prevented her from developing the dream to become a nurse one day.
This dream become even stronger when she was sponsored by Helen, her new friend in the United States, who helps support sponsorship programs in her community and also supports Nana Rouwaida through their letter writing, always encouraging her to work hard in school.
"I am proud to receive a letter from my sponsor because anytime I get a reply to my letter I feel important. I also like the stickers and coloring books, stickers to play with and coloring books to see things new for me."
Through sponsorship programs, she also enjoys going to Reading Camp, where students come together for group lessons with a teacher from the community outside of their regular classes at school. Through sponsorship, teachers receive books to support storytelling and literacy building skills with their students in the Reading Camp, as well as are trained by sponsorship experts on how to use child-centered and child-friendly interactive teaching styles that keep children engaged and excited to learn.
In her free time, Nana Rouwaida also likes helping her mother around the house, for example grinding millet for their meals, sweeping or making the fire for cooking. With her friends she enjoys playing their favorite game, called chalele, involving dancing, clapping and singing traditional songs, generally played by girls. She is also very fond of goats and takes care of them to help her father.
She says what she cherishes most is the time spent on Wednesday afternoons and Saturdays, when she goes to the fields to collect grass for the goats. "I like goats because they are easy to breed," she shares with pride.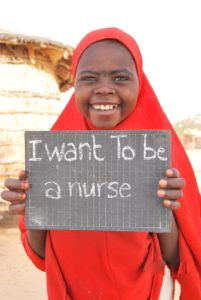 Nana Rouwaida is supported in her dream of becoming a nurse by her father, Illa, who also shares the same vision as his daughter. Despite being sixty years old, he is among the few parents from their village who strongly supports young girls' education, rather than expecting them to only help care for the family. "I understand that education is the key to development and I want my daughter Nana Rouwaida to become a nurse one day, in order to help herself and help other people around her."
Nana Rouwaida's teacher, Harouna Siradji, shares that the sponsorship program has already made a positive change in Nana Rouwaida's life, after running programs for just one year in Tchadoua. "She is now very active in class, [and] her handwriting improves thanks to the Reading Camp."
For the children in Tchadoua, there is a long way to go. However, things are already beginning to change, and Nana Rouwaida knows that with her sponsor Helen by her side, nothing can stop her.
Interested in joining our community of sponsors? Click here to learn more.