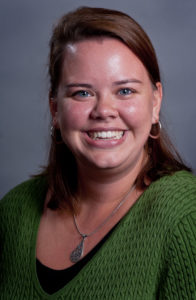 Erin Lauer
U.S. Preparedness Manager
Save the Children U.S
August 8, 2017
When it comes to the weather in northwest Arkansas, the forecast can be a bit like a box of chocolates: you never know what you're going to get. Extreme heat, nasty thunderstorms, flash flooding, ice storms, tornadoes and even earthquakes have all impacted families in this area in the foothills of the Ozarks.
The risks may seem overwhelming, but the second graders at Butterfield Elementary School in Fayetteville are now ready to weather whatever storm may come their way after participating in a recent Save the Children Prep Rally. A Prep Rally is an emergency preparedness program full of activities and games that help children learn the basics of getting ready for disasters.
More than half of American families don't have an emergency plan, but kids can play a key role in helping their families get ready for disasters. In fact, families of school-age children who bring home preparedness resources are 75 percent more likely to have an emergency plan. That's why Butterfield Elementary invested in preparing their kids.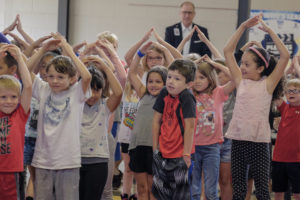 The Butterfield Elementary Prep Rally helped 100 second graders learn how to recognize risks in their area, how to make a family emergency plan, and what supplies to have ready in a disaster. The program uses fun activities, games, and dance to help kids learn about disasters, empowering them with safety and resilience skills. The Un-Telephone game reminded the kids how it can be difficult to communicate during a crisis, and how important it is to know what to do before a disaster. The Family Plan countdown had everyone up and motioning for their 3 ICE (in case of emergency) contacts, 2 evacuation routes and 1 safe place.  Students also played the Disaster Supplies Relay race, learning about what items they should bring with them in case of a disaster.
"The Prep Rally was really fun — now I keep my go bag on the table in case something happens," said Katherine, age 8.
After closing with the Prep Step song and dance, the children went outside for a special treat — a visit from their local first responders who keep them safe every day. Fayetteville Fire, Police, Central EMS and the Washington County Sheriff taught the children about the different roles they play in an emergency, and brought fire trucks, ambulances and police cars for the kids to explore. The highlight of the event was a visit by the medical transport helicopter from Mercy Hospital, which landed on the soccer field and gave kids a first-hand look at the vehicle that can help bring sick children to the hospital nearly 200 miles away.
Jennifer Condron, one of Butterfield Elementary's second grade teachers said, "What a memorable and exciting event! I just sent pictures to parents and encouraged them to talk with their children about their emergency plans for home."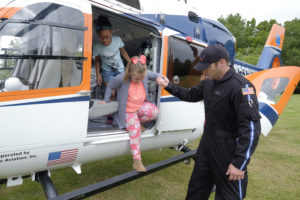 Debbie Malone, the Community Preparedness Champion for Washington County added, "The Prep Rally was a great way to teach kids about disasters in a way that wasn't scary, and help them build relationships with local first responders. It was really nice to see the community coming together to promote safety and preparedness to our children."
The Prep Rally was presented as part of the Resilient Children/Resilient Communities Initiative, led by Save the Children's partnership with the National Center for Disaster Preparedness at Columbia University's Earth Institute, and funded by a grant from GSK. This three-year initiative, through two pilot programs in Arkansas and New York, will develop child-focused community resilience planning that can be brought to national scale. For more information, please visit ncdp.columbia.edu/rcrc.
You too can help your community get ready with a Prep Rally. Download Save the Children's free Prep Rally guide books and lead preparedness activities with your local school, child care, camp or Girl Scout troop. Learn more at www.SavetheChildren.org/GetReady