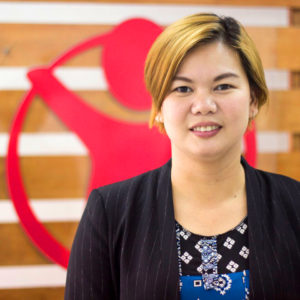 Maria Rosario Garcia
Sponsorship Communications Coordinator
Save the Children Philippines
August 8, 2017
"My sponsor's name is Kim," 6-year-old Maria proudly told me as I spoke to her one day after class. I was visiting her community in South Central Mindanao to deliver the newest letter she had received from her sponsor. She spoke confidently and proudly, and sounded like she knew her sponsor very well.
Maria and her family live in an area where most families do not have the ability to provide three meals a day, have clean drinking water or even a single toy for their children to play with. Her father works as a driver, who is able to come home only on the weekends, while her mother stays at home to take care of Maria and her 9-year-old brother, Zyrich.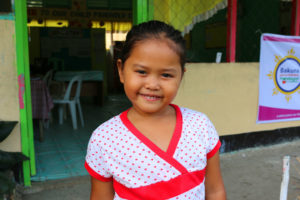 Having a sponsor keeps Maria excited about her days. She is eager to share with Kim about her life and about what she is learning in school. People from Maria's hometown have little mobility to move beyond the community – it is a small and remote village where usually people only travel as far as where they can reach on foot. Her eyes light up with wonder when she reads the letter describing what it is like in the country where her sponsor lives, in the state of Texas in the United States. Hearing stories about the different places in her sponsor's life has made her realize that the world is bigger than she ever imagined it to be.
She knows there is so much beyond her community now and she awaits for stories about that world in the letters she receives – learning about Kim's family, her pets and the places she has visited. Maria clearly remembers that she received three letters from her sponsor, each equally exciting and wonderful, over the little over a year she's been sponsored by Kim. "It makes me happy to know that I have a picture in their house," she shared smiling, describing the photo all sponsors receive from their sponsored children each year. Maria's facial expression was more than happy as she continued to tell me that she felt like she's part of Kim's family, and that she feels cared for even though they are countries and oceans apart.
After two years of attending our learning programs, Maria is now happily attending her first grade in primary school. These sponsorship supported programs have provided Maria and the other children in her community with reading camps to practice their reading skills with peers, the provision of new learning materials and book banks from which books can now be borrowed, and additional supplies for their schools that enhance literacy and numeracy skills.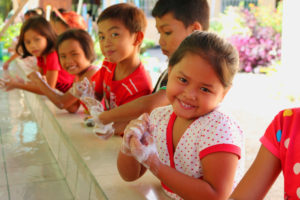 Today, Maria says she wants to be a teacher so she can teach more children how to read, write and color pictures as she is so fond of doing! She tells me she cannot wait to share this dream with Kim.
If I were able to meet Maria's sponsor, I would tell her that she has all the reasons to be proud of Maria. Aside from her astounding progress in school, she is also one of the Child Ambassadors who represents her community in Save the Children's programs – serving as an embodiment of the achievements her community has been able to implement with sponsorship support.
Sponsorship shares and inspires not just future teachers like Maria, but future doctors, police officers, pilots, veterinarians and more in the over 20 countries where we implement our programs. If you haven't written to your sponsored child yet, we encourage you to do so! Our experience tells us that letter writing is extremely rewarding for sponsors and children alike – you may help to shape their future dreams!
Interested in joining our community of sponsors? Click here to learn more.