Fahim Shahriar
Deputy Manager, Sponsorship Communication and Data Quality
Save the Children in Bangladesh
July 21, 2017
Sajib is now over 7 years old, and lives with his family in the slums of Rayerbazar, an area with run-down, overcrowded and unsafe informal housing, in Dhaka North City, one of the areas in which sponsorship works in Bangladesh. His father Fazlu pulls rickshaws in order to support their family, and his mother Ajufa works supporting the home. He is the youngest among 4 siblings, and has been involved in Save the Children's sponsorship program since May of 2016.
Before sponsorship came to Dhaka North City, children had very few opportunities to learn or play outside of school. They could be seen usually aimlessly wandering the meandering slum city paths and streets. No one had talked to their parents about how important receiving an education could be for their children, and so parents would not involve themselves in supporting their children's schooling. Sajib and other children from the slums had irregular attendance and didn't enjoy reading, because they found it so difficult and because there were so few books available to them. As a 1st grader, Sajib had trouble recognizing the letters of the alphabet, and could not read any books on his own.
Sajib and his parents came to know about sponsorship by attending a gathering hosted by Save the Children for parents in their community. After that, they began to understand the impact sponsorship, and having a strong foundational education, could have on their son's future.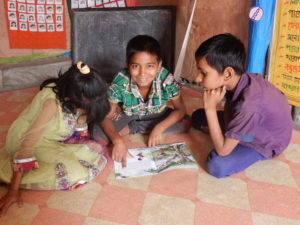 Thanks to these programs, Sajib's learning abilities have been transformed. He now has the great joy of attending after-school programming at the sponsorship supported community center in his neighborhood. There he is greeted by a child-friendly learning environment, with walls covered in colorful posters and images, and shelves full of print-rich materials.
He shares proudly, "Now, I am reading in grade two at school. After school, I love going to Shishu Mela [local sponsorship supported community center], because my many friends go there. We read storybooks and play games together there."
At sponsorship programs Sajib was also introduced to a child-centered teaching style for the first time, which employs interactive and fun learning techniques to keep him engaged in the daily lessons. "Apa reads the books to us in special way, I like that and for this reason, I go to the center," he shares about the way the center facilitator, Apa, reads books to them in an entertaining way that captures their imaginations – storytelling with rhythm and pace, pausing at the exciting parts and speaking with feeling to convey the characters' emotions.
"I participate in storytelling sessions and I have learned spellings of words," he continues proudly, "Now, I enjoy reading stories and sometimes I borrow books from the center to read at home. Because of this center, now I can read the books by myself."
Adding to his new found reading skills, Sajib and his family are very happy to get connected with their new friend abroad who is contributing to the wellbeing of their community in so many ways. "I am feeling so special after knowing that I have got a new friend in abroad, because not all other children here in my community have such a friend," shares Sajib, describing the newly formed friendship with his sponsor, Casey, who started sponsoring him in December of 2016.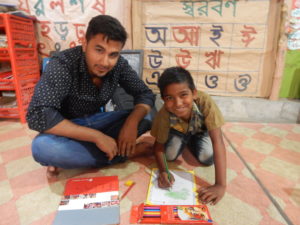 With the encouragement in letters from his sponsor and the enjoyment and new found confidence he has from learning at the community center, Sajib is flourishing. He attends school regularly now and reads on his own time outside of school.
His mother Ajufa shared, "I am so happy to know that my son Sajib is chosen by someone from abroad for friendship. I have learned the importance of such a friendship by seeing his progress after attending sessions at the community center. He can read stories by himself and his reading habit has increased too. He is teaching us handwashing and hygiene practices that he is learning at the center. These changes are happening to him because of [the] sponsorship contribution of foreign friends [sponsors]. Like my son, many other children of our community are also benefitting through sponsorship support. I want this relationship with his friend to continue!"
We know that receiving letters from sponsors makes a huge impact on sponsored children, giving them a sense of pride and self-worth. Sajib concludes, "I am very much excited as I could have written about myself and drawn a picture for my friend, which is the first time for me. I have loved writing and drawing a lot as those are shared with my friend through Save the Children. Now, I am waiting to hear from my friend and very eager to know more about him."
Interested in joining our community of sponsors? Click here to learn more.