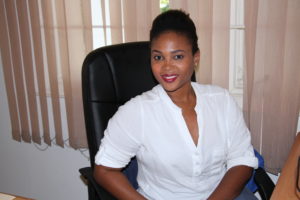 Edited by Yamileh Théodore
Sponsorship Operations Coordinator
Save the Children in Haiti
July 31, 2017
Hello, I am Nahomie and I am fourteen years old. I live with my parents and my three siblings in a community named Villard in Dessalines, Haiti. As the eldest, I usually help my siblings with their homework and my mother with the household chores such as washing clothes and dishes. My favorite subject is Math. Also, I enjoy playing hide and seek, hopscotch and jump rope with my friends and schoolmates.
As a typical teenager, I have a group of friends and we do everything together. For example, we like to wear the same kinds of clothes, and when one friend had her first boyfriend, we all wanted boyfriends.  Following the group, I had my first boyfriend last year.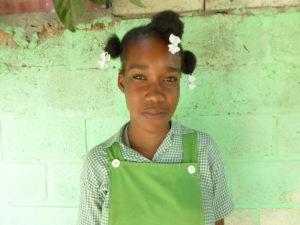 In my community in Haiti, parents aren't comfortable talking with us about sex – it is a taboo subject to discuss with people my age, regardless of if we are boys or girls. I had a lot of questions about having a boyfriend, and I didn't know where to go.
Thanks to Save the Children's program set-up for teens like me, I was able to seek out a friendly environment to ask questions about sex, my changing body and becoming an adult. Through sponsorship's adolescent development programs, our teachers, school principals, school councils, or Parent Teacher Associations, and community partners receive training on Sexual Education and child-friendly ways for adults to talk about sexual and reproductive health issues with students.
As a result of these programs, a health-care worker came to my school to talk about the services that were available at the health center in our community. After hearing them speak, I went to the health center to see how I could get involved and learn more. I started participating in a student club, that both helps spread health messages to people my age but also helps build my own leadership skills and self-confidence. I was able to not only find answers to the questions I wanted to ask, but was able to discuss these questions with both adults and peers in a place I felt safe.
Today, I feel comfortable speaking about my experiences as a growing girl in my community, and using my voice to create awareness among the others about how sexual intercourse at such young age can be harmful for our lives and our futures. Waiting until a more mature age can help us avoid a lot of mistakes, such as an early pregnancy, that would affect us for the rest of our lives.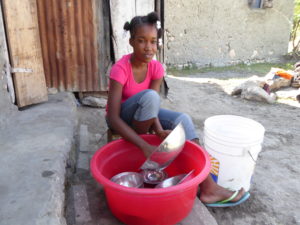 Whenever I want, I can seek more information about my sexual and reproductive health at the health center, where now I am always welcomed by staff who can offer even more information. I go there for myself, but also to create awareness and prevent adolescents like me from feeling influenced by pressures from their friends, and instead to make the best decision for their own well-being.
I am proud and thankful to Save the Children, this is a very good program! After meeting with the healthcare workers, I am now inspired to grow up to be like them. I work even harder at school so I can finish my studies in order to become a nurse. I will continue with the work they started in my community and help other adolescents who are in need. This is the dream I am now cherishing.
Interested in joining our community of sponsors? Click here to learn more.