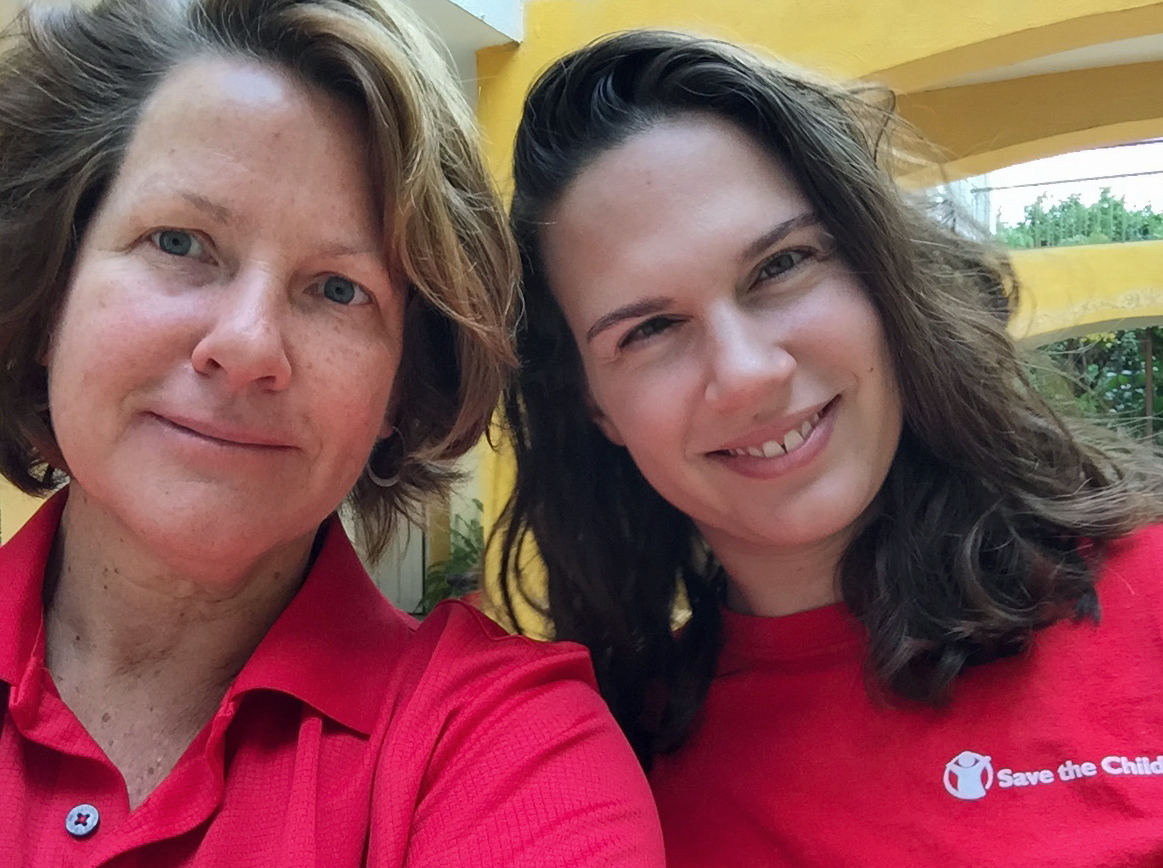 By Susan Warner, Senior Manager, Photography & Multimedia Production and
Claire Garmirian, Media Research Analyst
Susan: I made her cry, good tears. Transformative tears of love for the child in her arms. When I showed Rosa the photo I took of her and her granddaughter, she burst into tears. I knew then I had taken a good photo.
Claire: Rosa and I spent half an hour speaking in the director's office on the second floor of the school. We gathered chairs together so that she, Ivonne from Save the Children Mexico and I could hear each other over the noise from below. The painted concrete patio where teachers lead students in experiential learning was beneath us and the sounds of preschoolers moving, counting and singing ricocheted up into the office. Amid all of this energy, Rosa shared the very personal details of her life with her granddaughter, Valeria*, and how she has found herself to be a primary caregiver for the four-year-old girl.
Susan: I don't speak Spanish, nor have an ear for languages.  I gesture, pantomime, demonstrate and rely on our local staff to help when I'm on assignment.  I had asked Rosa to directly look into the eyes of her 4-year-old granddaughter.
Claire: As I listened to Rosa talk about her family, it became clear that she is a central figure holding many people together. She lives with her husband and son and daughter, both of whom have children of their own. Due to tensions between different members of the family, Rosa is a person who everyone can talk to. She sees the difficulties on both sides of the disputes. It sounded like her role could be tiring at times. She admitted that Valeria's tantrums could make her feel desperate, but she also says she knows that they are a result of Valeria missing her mother, who no longer lives with her. As much as raising Valeria can be hard work, Rosa had endless stories about how intelligent and creative her granddaughter is. When I lost my words searching for a question, Rosa volunteered the story of her trip to the theater with Valeria. Valeria could repeat the song from the performance by heart after only hearing it once. And while Rosa's speech was even throughout our conversation, it became energetic and expressive when she told me about Valeria's drawings. It is obvious that she is amazed by her granddaughter's imagination.
After our conversation, Rosa descended the stairs to join Susan on the school's main level. They found a corner among the cacophony to take the tender portrait of the grandmother and granddaughter.
Susan:  Through talking about her experiences in the interview and seeing the photos on the back of my camera, Rosa was emotional, in a positive way, overwhelmed by her love of her granddaughter. It was a touching experience to witness the love they shared. I had photographed her heart.
*Name has been changed for protection.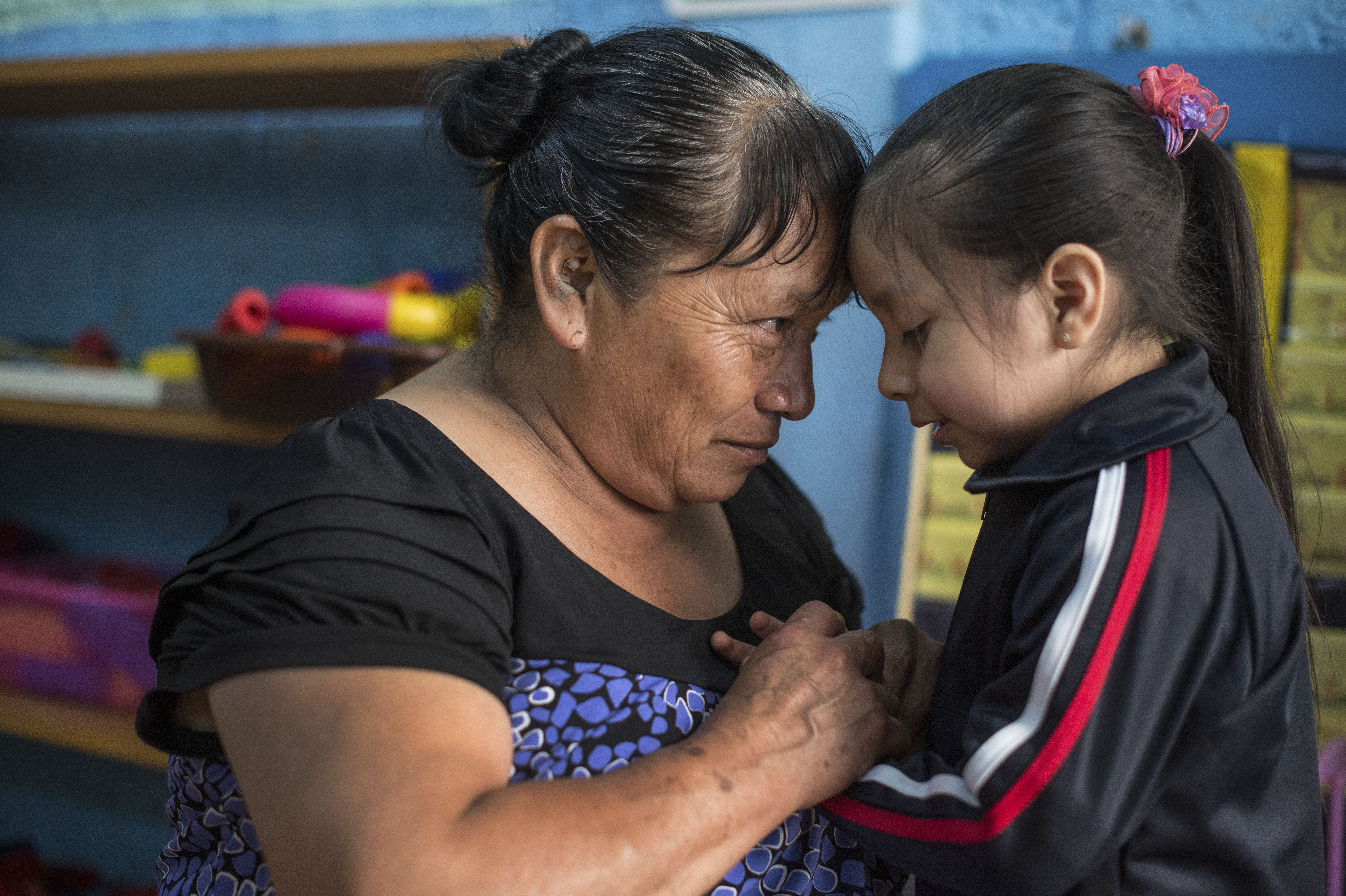 Background:
Valeria attends preschool in a rough neighborhood in Mexico City that is fraught with violence, drug gangs, and addiction. Save the Children's HEART program has helped children in this community cope with their stress, anxiety, fears and anger from being exposed to these activities.
About HEART:
HEART (Healing and Education through the ARTs) uses the arts to help children affected by serious or chronic stress from their life circumstances of poverty, violence or other traumatic events. Through painting, music, drama, and other art forms, HEART helps children find new ways to share their feelings and fears, so they can express themselves in a safe environment with trusted adults and peers, and thrive in the classroom. When children share their feelings they begin the healing process.
Save the Children launched HEART in Mexico in 2016. In the first year of operation, HEART reached nearly 8,000 children affected by poverty, violence and migration in 5 provinces: Baja California, Chiapas, Mexico City, Oaxaca and Puebla. The education program is integrated into Save the Children's programs existing school curriculums for children, including programs at preschools, early primary schools, child and youth centers, and summer programs, as well as migration prevention programs for children and teenagers.
Save the Children has operated in Mexico since 1973. Today, Save the Children serves children in 18 of Mexico's 32 states, giving kids a healthy start, an opportunity to learn and protection from harm.