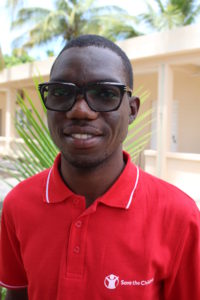 Jussar Simone
Quality Communications Coordinator
Save the Children in Mozambique
July 7, 2017
In the rural farming community of Muendaze in Nacala-a-Velha, Mozambique, lives a family of 5 – mother, father and 3 children, one of them 6 year old Issufo. After participating in community mobilization campaigns organized by Save the Children, in 2014 Maiassa, Issufo's mother, was motivated to improve Issufo's educational development. Despite he was not yet old enough for primary school, she learned through the campaigns in her community that, now thanks to sponsorship, there were a lot of important learning opportunities that he could be involved in even at 6, and decided to enroll Issufo in sponsorship's early childhood learning programs.
With sponsorship support, the Muendaze community was able to construct a location specifically to host young children, usually ages 4 – 6, in learning foundational skills that help set them up for success in primary school. Save the Children also helps to train center facilitators, who are taught how to use active learning, like songs, games and storytelling, to foster vital learning skills such as in emergent math and reading.
"During the first week's lessons, Issufo was still a shy and introverted child. However, it was possible to start to see some positives changes in his behavior," his mother told us.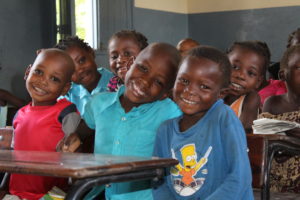 Facilitators in these centers teach their young students language skills, improve their knowledge of letters and numbers, teach them how to draw, and develop their counting skills, using locally available materials to supplement more modern teaching tools. For example, mango trees are found throughout the villages in this part of Mozambique, so children practice their counting using mango fruits and leaves.
"[At home] the [facilitator] asks us to actively participate in our children's development, by doing small exercises and mental calculations, such as counting leaves at home," shares Maiassa regarding little Issufo.
An important part of sponsorship's early learning programs in Muendaze is to teach parents how to better communicate with their children and help them develop learning skills at home too – since our experience shows that learning works best when it takes place both in school and out.
After two years in the early learning center, the little Issufo and his fellow classmates graduated from the program. A small graduation ceremony was held at the end of the school year, to help the young students celebrate and feel pride in their scholastic achievements. It was on a Friday, in the shade of the early learning center, Issufo received his graduation certificate in the presence of many guests, including parents, facilitators and the community's leader – all came to witness this important step towards primary school and their continuing education.
Today, Issufo is able to interact with adults in the community easily and with confidence, speaking the words well and showing off his constantly improving vocabulary in Portuguese. Despite being the national language, local languages like Emakwa are more commonly spoken than Portuguese in these rural areas, so Issufo is very proud to show what he knows.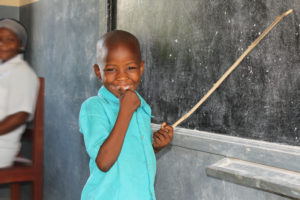 Now he is enjoying first grade and is one of the best students in his class. When asked about school he shared, "I'm happy, and I like to study, to solve mathematical exercises… When I grow up I want to be a mathematics teacher!"
Thanks to the skills developed in the early learning center, he was prepared to face the first grade without problems. "The children who come from the centers are more open and motivated (…) indeed the center makes our work much easier," said Fatima, his first grade teacher.
During 2016, the early childhood learning program graduated nearly 2,000 children in the region where Issufo lives. He is just an example of the importance of this program. His mother shared, "I'm very happy because now my son can play, sings and likes to count… I know that he will pass to second grade, so we can see now that we made a great decision for the development of our child. Thank you very much Save the Children for helping us!"
Interested in joining our community of sponsors? Click here to learn more.