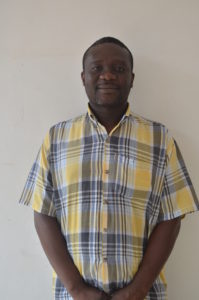 Singilton Phiri
Interactive Radio Instruction Specialist
Save the Children in Malawi
June 16, 2017
Before the introduction of sponsorship in rural Zomba in Malawi, walking along the dirt roads, lounging in the tobacco gardens, roaming markets in neighboring villages, or taking care of the family goats and cattle were all a part of normal pastimes for children. Very few remained in school.
This spoke volumes to Save the Children, as it recognized that communities unknowingly lived in the dark – unaware of the importance of sending their children to school. Darkness hedged over the next generation, as access to education, care and development were denied innocently to children.
As we began to mobilize community members to support our education programs, I saw that only a few parents allowed their children to enroll in sponsorship, unknowing that this resource would turn into an oasis of development.
As an Interactive Radio Instruction Specialist, I rolled out the Tiyende! program in Zomba, meaning "Let's Walk!" in the local language, to help combat these barriers. This unique program brings quality educational lessons through radio instruction to children between the ages of 4 and 5, to help ensure they become lifelong learners by fostering a love for learning at an early age. The lessons help children grow to their full potential, engaging them in fun activities and vigorously preparing them for primary school. Since most children have never seen or heard a radio, this program attracts them to the community-based child-care centers, supported by sponsorship in their community, in order to participate.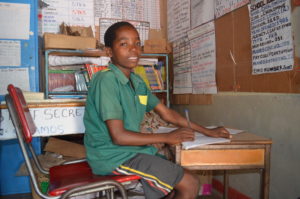 At the child-care centers, children sit together and listen to the Tiyende! radio program, which helps them learn shapes, numbers and the alphabet while listening to fun and lively audio prompts. For example, to help develop literacy skills, children are asked through the radio to write in the air or in the sand, as classes may be held outside, the letters they hear spoken. Radio sessions are a half hour long.
When enrolling at the sponsorship supported centers, children also have access to teacher-guided lessons that stimulate their physical, social, language and cognitive development. In addition to the interactive radio programming, thanks to sponsors these centers offer colorful learning materials and storybooks to help children get excited about learning, along with teachers trained on other interactive, child-friendly teaching methods.
In no time, the interactive radio programs began to yield positive results, as children were no longer seen wandering the market places but were in school during the day. Over 230 community-based child-care centers have been reached. Nearly 6,000 children from ages 4 – 5 years old have benefited from interactive radio programs in Zomba, and an estimated 2,000 out-of-school children returned to school as a result. Noticeable were increased enrollments at the child-care centers, even beyond Save the Children's area of work, as the radio program is aired through a community radio available to anyone in listening range. There indeed was new horizon in sight for Zomba.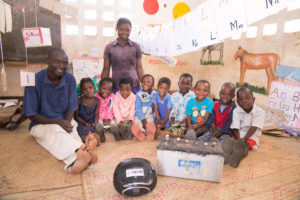 It gives me optimism as I see Tiyende! transitioning children each year to primary school, where child-care center graduates take the lead in their classes and have greater achievements than those that go straight from home directly to primary school.
Among the many learners who have benefited from Tiyende! is 13-year-old Rodrick, a seventh grade student. He started learning how to read and write while at the community-based child-care center in his village of Nkundi. He shared proudly, "I do well in primary classes because I started reading and writing at the [community-based child-care] center," said Rodrick. He added that, "When I grow up I want to be an Immigration Officer so that I can protect my country," Rodrick is usually top of his class and is just one among the many former Tiyende! participants doing well in school.
The saying that "the darkest hour comes before dawn," is true. I am extremely happy to see that sponsorship has brought a great irreversible change in the lives of the children and communities here. Please accept our greatest thanks, from the Malawi sponsorship team in Zomba.
Interested in joining our community of sponsors? Click here to learn more.