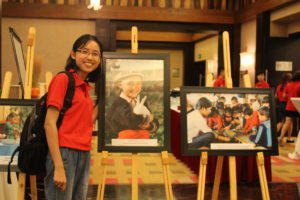 Nguyen Thi Nga
Field Project Assistant
Save the Children in Vietnam
June 9, 2017
Working in sponsorship, every journey makes an impression on my life.
I really appreciated the opportunity to meet with Linh, a 10-year-old girl enrolled in our sponsorship programs, as she welcomed her sponsor for a visit to her small village in the mountains of Vietnam. Here, in Phong Hai commune of Lao Cai province, people live high up in rural mountain villages and rely on agriculture, growing crops such as maize, rice, cassava or tea, to support their families.
I still remember the happiness that filled her face when she expressed her feelings about the day her sponsors would arrive. Her eyes lit up and she smiled brightly, and I felt a warmness touch my heart.
It was a rainy day, and she was playing with her friends while waiting for the exciting arrival. Suddenly, she caught the smile of her sponsors. She recognized them immediately – they had included a photo of them in their first letter to her which she cherishes.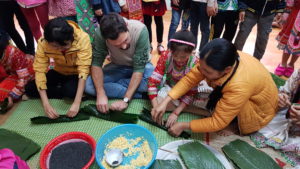 What an amazing thing! Thanks to sponsorship, she was able to get acquainted with her two foreign friends, coming from a faraway country on the other side of the world – Italy. Their names are Federica and Manolo, a married couple who have been getting acquainted with Linh through letter writing over the past year as her sponsors.
She felt unbelievable, almost like a little princess from the fairy tales her mother had told her when she was younger. She felt one of those stories had become her real life when she met her sponsors, as they came to her school and met with her teachers, friends and her family.
"Hardly did I have [such a] memorable time like that. We talked to each other and played special games, like badminton… Then, we made traditional cakes." These special cakes, called "gu cake", is a traditional dish of the Dao ethnic group, an ethnic minority of Vietnam that lives in this area. It is made by wrapping a mixture of purple sticky rice, green beans, salt and pork in banana leaves and bamboo strings, and then boiling for a very long time, up to 5 or 6 hours. They are made to celebrate the Tet holiday, or the Lunar New Year, in Vietnam, and traditionally are placed on an alter to worship ancestors.
"It was also my first time to make these cakes by myself. It was such an interesting experience with my sponsors. What a pity! I could not speak with them a lot to express how glad I was because of our languages and my shyness. Perhaps, no words could ever describe my happiness at that time." Linh said to me later, when reflecting on the visit. "I am truly a lucky girl to have met my sponsors in my life. Despite [the] far distance, they came to visit me with kindness and friendliness. I honestly appreciate their coming and love for me."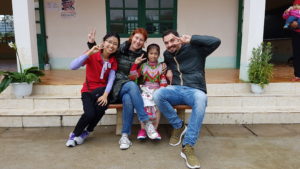 It was with a saddened voice when she spoke about saying goodbye to her sponsors. I would like to express my sincere thanks to those sponsors that visit our programs. It is such a unique and amazing opportunity to make a connection across distances and cultures. Thanks to our sponsors for their kindness in helping disadvantaged children in Vietnam and the world over. After participating in this visit, I have more motivation and passion about my work at Save the Children, with the big mission to better the life of children.
Interested in joining our community of sponsors? Click here to learn more.