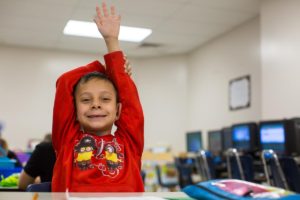 Save the Children USA
May 17, 2017
In Southern Kentucky, 7-year-old Malachi is excited to send a personal note to his sponsor. This thoughtful little boy puts a lot of heart into the words he chooses. "I'm a hero because I'm… smart!" he writes. He then adds a colorful drawing of his mother, wearing a pink cape — an example of his very own super hero.
Growing up in Kentucky has not been easy for Malachi and his mother. Their small, rural community struggles with the all too familiar challenges of poverty – lack of teachers and materials for quality schooling, few jobs that pay a living wage, and high unemployment.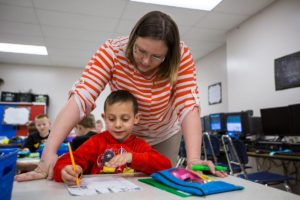 Malachi is lucky, however. He has a very close relationship with his mom – a single mother who is working her hardest to create a good life for her family. She has been able to find jobs, but their two-person family has faced significant financial setbacks in recent years, and she cannot meet his basic needs. On top of this, Malachi has had difficulties focusing on his studies in school.
But while they may not have many material possessions, they are grateful for the richness of the love they share and their strong bond. Malachi's mom has been an advocate for Malachi and a strong supporter of his education.
"Malachi has expressed how much he enjoys the after-school program. I feel that he is safe and well taken care of," says his mother. "I have to work, and it gives me a chance to better our lives."
Before being sponsored two years ago, Malachi was tracking behind the average literacy expectations for kids his age. He didn't always turn in his homework and struggled to focus in the classroom, more than his peers.
Since joining the sponsorship program, his word recognition, basic literacy skills and reading comprehension have all shown improvement. Paying attention in class is no longer a struggle.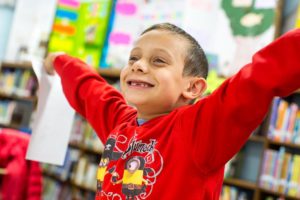 "After-school I go to Bulldog Club," said Malachi, beaming. "My favorite thing to do there is read!" Malachi's favorite books are about dinosaurs and he takes great pride in the fact that he can now read confidently.
The after-school program is funded by sponsorship and includes reading practice, writing support and listening to stories read aloud. Malachi's mother is just one of many parents who has seen the after-school program make a significant difference to her children and in their close-knit community.
Save the Children's literacy program helps give children growing up in America's poorest communities a the opportunity to learn. Children in these places have the potential to improve their knowledge and boost their confidence — the stepping stones for a successful future.