Saving lives at sea
How did they get here? It's a question I can't help asking myself, every time I see a child rescued from the sea. This time it's a boy of perhaps 17. Ali* (*name changed for security) is in our on-board clinic, just a few hours after we picked him up following his life-threatening ordeal at sea. His body is cramping due to malnutrition. He can barely speak. As I help him to eat he slowly regains some strength and manages a whisper. He gestures to his injured foot. I realize he is describing how it happened. His wounds are the result of torture in Libya. How he got here becomes a little clearer, a small part of the puzzle solved.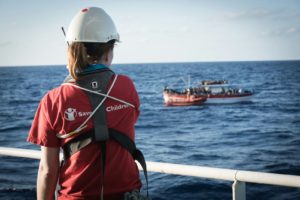 "I think I can see something", said a member of my team earlier that morning, binoculars raised. On the horizon, a microscopic black dot. It appears then disappears. It is 7:15 a.m. and we have been scouring the horizon since first light. A second opinion from our captain is equally inconclusive. As we move closer to investigate the outline of a tightly packed rubber boat soon becomes clear. The dinghy would not have lasted long. It was beginning to deflate and no one was wearing a life jacket.
A quarter of those rescued are children
After notifying the Italian coastguard and getting their approval to proceed we approach and find more than 100 people crammed on the flimsy dinghy. We deploy our fast rescue boats and soon they are aboard our search & rescue ship, the Vos Hestia. Around a quarter are children. Later that day we took on board 100 more from another rescue ship. Ali was among them.
By now, this is a story that is sadly all too familiar. But it's worth retelling, because in recent days doubts have been cast on the way NGOs in the Mediterranean save lives. Specifically, people are seeing photos of refugees and migrants on rescue ships and asking, "How did they get here?"
We've been told we're part of the problem, and even that we are colluding with the same smugglers who callously cast people off from the shores of north Africa in the dark, early hours of the morning knowing full well the coming sunrise might be the last their 'clients' ever see. This is categorically untrue. Those making these allegations are making assumptions that just aren't factual.
The deadliest crossing on record
We never communicate with traffickers or people smugglers and only operate in international waters. We find refugees and migrants in distress through collaboration with other NGO vessels and the Italian coastguard and frankly, a huge dose of luck – luck that is still sadly absent for too many. Last year was the deadliest on record for people crossing the Mediterranean. Altogether around 5,000 refugees and migrants lost their lives. Close to 1,000 people have already died trying to cross this year.
Save the Children's crew on board the Vos Hestia are fighting against the odds every day to limit the needless loss of life in the Mediterranean. We never know when the call will come. My team go to bed in their cabins each night knowing they could be roused at any moment. Just last weekend search and rescue capacity was pushed to breaking point.
Our sole mission is to save the lives of people, particularly children, who are escaping violence, persecution and extreme poverty. We save people from the very real threat of drowning and protect the children we bring aboard. If the search and rescue efforts of NGOs like ours stopped, the death toll would only increase further.
We have also seen little evidence that the reduction of search and rescue missions leads to a decrease in attempts to cross the Mediterranean. The presence of search and rescue does not imply more people will cross, it simply means those who do are more likely to survive.
We shouldn't be all that's stopping the desperate search for safety from becoming a death sentence. But that is the situation we are in. Smugglers are knowingly endangering the lives of people seeking better futures at extortionate costs and extreme conditions.
Thousands of children are still at risk
There are thousands of children among those making the crossing and no child should drown in search of a better future. Until the EU provides safe and legal routes to Europe, both for those in need of international protection and for other migrants, people will continue to risk their lives to reach Europe. Questioning the impact of what we do as humanitarians is in our DNA. Everything we do starts from the principle that we must 'do no harm.'
'How did they get here?' We ask it every day. The answer is violence, poverty and exploitation. The evidence shows that we make it more likely Ali and others like him will survive.
Gillian Moyes is the Team Leader for Save the Children's Search and Rescue response
To learn more about our Search and Rescue Response, click here.