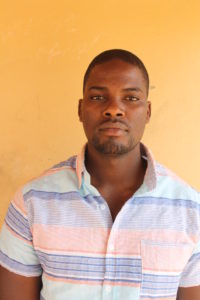 Kelvin Mulenga
Information and Communications Officer
Save the Children in Zambia
April 27, 2017
Walking along one of the paths in a small community called Nkana, I cannot help but notice the very jovial little girl who smiles despite needing a wheelchair. I am curious about her, and my curiosity leads me into a discussion with her and her mother, Rose.
I learn that this child is Celine, a 12-year-old girl and third grade student at one of the Sponsorship-supported schools in Lufwanyama. She is the last born of her family of 12. She tells us she loves fruit and shares her favorites, "I like oranges, bananas and apples because fruit provides vitamins to my body."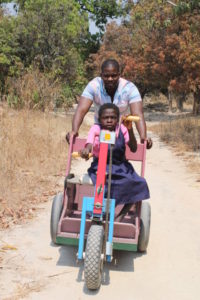 Despite her physical challenges, Celine is passionate about attending school. However, like many disabled children, she was not able to go. She suffers from a spinal disease called scoliosis, which crippled her ability to walk. Though her school is just a short distance from her home, without transportation she was forced out of classes for a full year. In addition to her physical struggles, her family also could not afford to purchase school materials like books and pencils.
After being enrolled in Sponsorship, Save the Children field staff began to look for ways to help Celine attend school. They advocated for Celine to gain access to a wheelchair from one of the local churches in the community, to help her get to school. She also received exercise books from her school, provided through Sponsorship funds.
"I love Sponsorship, as Save the Children is now helping my school with a lot of things, and I am given some of these like books." Celine said with a smile.
Today, Celine is back in school and tells us she wishes to work in an office one day, where she will be a person of great importance, "When I finish school, I would like to work in an office where I should be signing on documents, that they bring to my office."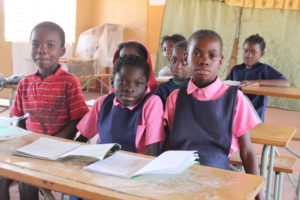 However, her dream will not be realized without her community continuing to embrace the importance in protecting the health and education of every child, as a fundamental human right – that every child is entitled to enjoy learning regardless of their physical abilities.
Save the Children has been implementing its non-discriminatory programs to help children like Celine attain education despite the many hurdles they face in their life. Continue to dream big, Celine, and we will continue to support you!
Interested in joining our community of sponsors? Click here to learn more.