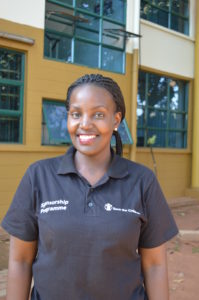 Madrine Amuge
Senior Officer of School Health and Nutrition
Save the Children in Uganda
April 20, 2017
Robinah is 10 years old. She is in grade six and resides in the Lutisi community in our Sponsorship impact area of Wakiso, in Uganda. She loves to go to school, and she tells me her favorite subject is Science. Robinah also shared she would like to become a doctor in the future, to help sick people get better.
Even with a dream that is in the field of health and hygiene, there was a lot that Robinah didn't know about ways to prevent sickness before joining Sponsorship. "Before Save the Children came to my school, my friends and I didn't wash our hands after visiting the latrine because we had no source of water, and we also didn't know how." says Robinah.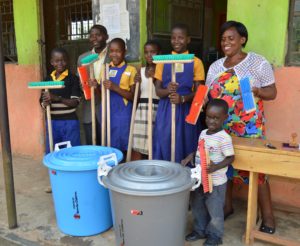 Through the School Health and Nutrition programs that our sponsors support, Robinah's school received a water tank, handwashing facilities and lessons on how to wash their hands properly, in order to kill germs that cause disease. This keep students healthy so they don't have to miss classes due to preventable illnesses, as well as keeps them more comfortable during the school day. Children who have already received handwashing lessons are becoming champions for spreading better health practices to their friends, families and throughout the community.
Apart from personal hygiene, a clean environment is also very important for schoolchildren like Robinah to be able to study and learn well. Thanks to our sponsors, Robinah's school now has cleaning materials, garbage bins and the knowledge of how to manage disposal of waste. Already there has been a reduction in sick children, as garbage bins at school are now properly managed and free of disease spreading vermin and insects.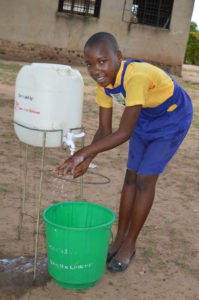 "I am confident while washing my hands, because I have learned why and how to wash my hands with soap and water. I also learned how to keep my school clean to avoid being sick. I now teach my brothers and sisters at home about the good practices I have learned in school," shares Robinah.
Robinah is thankful for Save the Children and the Sponsorship program for choosing her community and for teaching her and her friends good hygiene practices. She believes that she can help her community with this knowledge and also be good doctor in the future. Even today, she already has stayed true to her goals in the health profession by sharing her skills with her family members.
Imagine a school where the floor, desks and chairs are covered in dust and dirt, but you still must sit and work at them. In your classroom, children all around you are coughing and tired because they are sick. In the corner of the schoolyard, a mound of garbage is piled high and circled with flies. Could you learn and play in an environment like this? Would you want to go to this school day after day?
Interested in joining our community of sponsors? Click here to learn more.