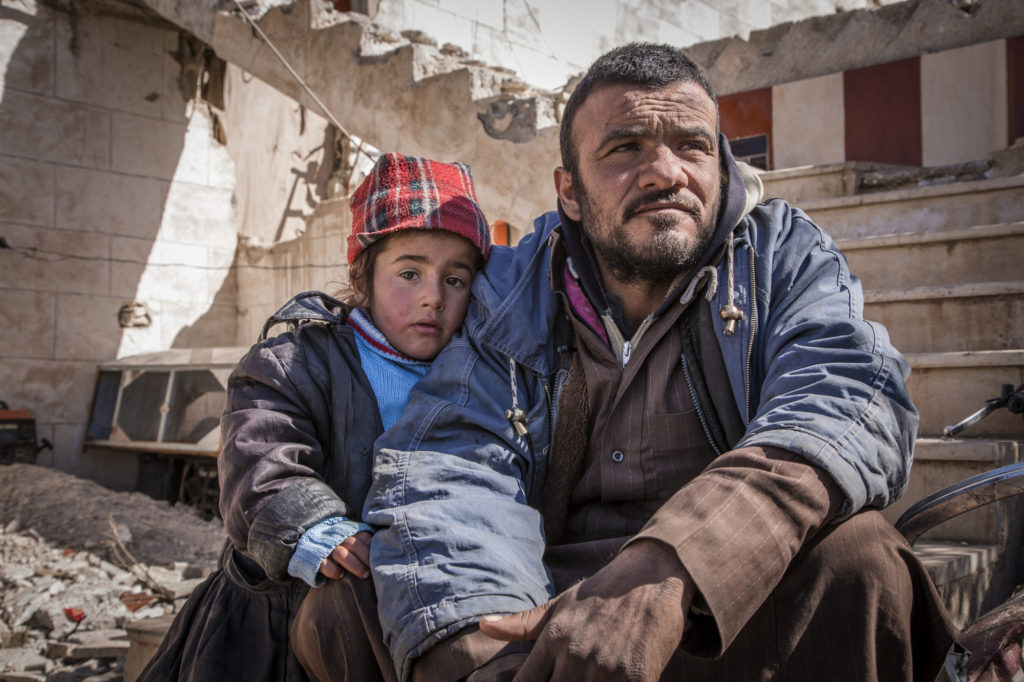 Written by Carolyn Miles, President & CEO, Save the Children | Originally published on Devex.com
After six years of war, people were weary and on edge. Neighborhoods were hardly recognizable. Fresh food was a luxury that no one had. Schools were closed or moved elsewhere. Children's bodies displayed pealing burns that only a bomb could cause. Nearly everyone knew someone who had been killed.
It's hard to know whether I'm describing the end of World War II, or Syria today. Both wars battered entire generations of people, but one notable date separates these two horrific events. Today inexcusably begins the seventh year of the war in Syria, and on Friday, the war in Syria will become longer than World War II.
Sadly, the psychological toll of war is one of the greatest similarities between the two and will have the longest lasting impact in Syria, just as it did after WWII. We need to invest more in psychosocial support and make another concerted effort to convince all sides to end the violence.
Daily exposure to the kind of traumatic events that Syrian children face will likely lead to a rise in long-term mental health disorders such as post-traumatic stress disorder, depression and social anxiety. Living in a constant state of fear can create a condition known as "toxic stress," which, if left untreated, can have a life-long impact on children's mental and physical health. Harvard University's Center on the Developing Child reports that toxic stress can disrupt the development of the brain and other organs and increase the risk of stress-related diseases, heart disease, diabetes, substance abuse, depression and deep-rooted emotional scars.
Among the 3.5 million Jewish people who survived World War II in Europe, and the 183,000 people who survived the atomic bomb blasts in Japan, many are known to have suffered from physical and psychological problems decades after the fighting ended. Research done by the Never Ever Again organization in Scotland even shows that the grandchildren of Holocaust and bomb survivors have experienced secondary and transgenerational trauma.
A new study conducted by Save the Children inside Syria shows that people are feeling the psychological effects of war: 84% of adults and almost all children said that ongoing bombing and shelling is the number one cause of psychological stress in children's daily lives. And 48% of adults have seen children who have lost their ability to speak or suffer from speech impediments as a result of living in such a dangerous and uncertain environment.
A teacher we work with in the besieged town of Madaya told us that children are psychologically crushed and tired. "When we do activities like singing with them, they don't react at all, they don't laugh like they would normally. They draw images of children being butchered in the war, or tanks, or the siege and lack of food."
Another teacher told us that children have been so traumatized they express wishing they were dead because at least heaven would be warm and would offer food and a place to be safe and play.
While the world has clearly not learned the lessons of past wars in many respects, as the war in Syria continues, one lesson we can learn from World War II is the importance of addressing psychosocial issues among children early and often.
U.N. Security Council members, and other countries that have been unable to bring warring sides to the negotiation table, need to increase investments in mental health care inside the country and insist that all sides agree to a minimum set of measures to ensure the protection and safety of children in Syria.
Programs that support children's resilience and well-being must also be given special attention and additional funding. Children are incredibly resilient but only if they are given the proper outlets and tools to recover and thrive. Programs to support parents could also help children feel more supported.
Finally, relatively small investments to train teachers and school personnel in conflict sensitive approaches to education, such as art therapy, would yield positive results now and into the future.
In the U.S., Congress should take such critical investments into consideration as it determines the 2017 international affairs budget. Cuts now will hurt Syria's children in the short and long term.
Children who survived World War II in Europe and Asia went on to become Nobel laureates, actors, scientists, fashion designers, teachers and more. Syrian children hold the same potential, but as the war drags into its seventh year, individuals and leaders must summon the will and the means to support children during this horrible time.