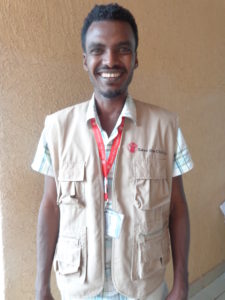 Rida Abasambi Abagojam
Education Program Coordinator
Save the Children in Ethiopia
March 6, 2017
I felt very fortunate when I joined Save the Children's Sponsorship team in Oromia as Education Program Coordinator in 2015. I work with a highly committed and energetic team that is shaped by Save the Children's core values and principles, in always reflecting accountability and innovation to continuously improve the quality of our programs reaching children, even during difficult times.
Save the Children has been implementing Sponsorship programming that partners with local communities in improving children's access to quality education, by providing trainings for teachers, teaching materials for classrooms and conducting a continuous dialogue with community members and parents to improve their knowledge, attitude and skills on children's development and improving educational environments.
This past year, the Sponsorship team began programs in Summer Learning Camps (SLCs), so that children can continue their education and be engaged in learning during the summer break from school. So far, nearly 250 villages in West Showa now provide SLCs for their learners. Broadening our reach even further, some SLCs serve additional smaller neighboring villages.
We travel on foot, walking long distances and crossing rivers, to meet community leaders, identify camp sites, select village volunteers to manage the camps and to deliver camp materials. I was one of the team leaders who went to a small rural village, to meet with local elders, community leaders and village members to discuss and identify a new SLC site.
One farmer was waiting to greet us. He led us to where the community members were already waiting for us, sitting in the shade under a big tree. After we greeted and introduced ourselves, we then discussed the SLC initiative that we hoped to start in their village. They were so happy that they blessed us and told us they would support us in any way they could. They shared they too understood the significance of keeping their children in contact with books and reading during school breaks. They were also thankful to hear that book banks, or portable libraries with reading and writing supplies, and different kinds of games would be provided for their children. They excitedly discussed the possibility of children being able to borrow storybooks to read at home.
As we finished our discussion they led us to the camp site they proposed. When looking to identify sites, we make sure that there are no natural hazards nearby like cliffs or rivers in which children could hurt themselves, as well as other hazards of town-life like stray dogs or nearby roads. As this location was in a shady and grassy field, we agreed it was a very safe place for children to learn and play.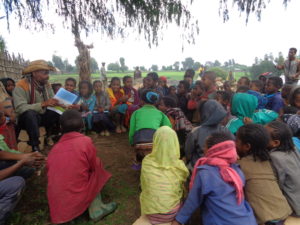 We also agreed to build the tents for the camp together, and that the community members would provide wood to help construct the tents. They also said they would make wood benches for the children. Sponsorship then in turn provides the additional materials needed, like storybooks, educational games and the plastic for the tent itself, and helps train facilitators to run the camps in a child-friendly way, to help foster a love of reading in all the camps' participants.
After a site is set up, we visit the Summer Learning Camps twice a month. I always feel happy when I'm able to do this, and see the children playing and reading at the camps. When I arrive during the elders' storytelling time with the children, I really enjoy sitting for a moment to listen to the stories with the kids, and return back to my work station with renewed energy. I love my career and feel lucky to be part of such a dynamic team that is always turning challenges into opportunities, to create positive changes in the lives of the children our sponsors help us reach.
Interested in joining our community of sponsors? Click here to learn more.