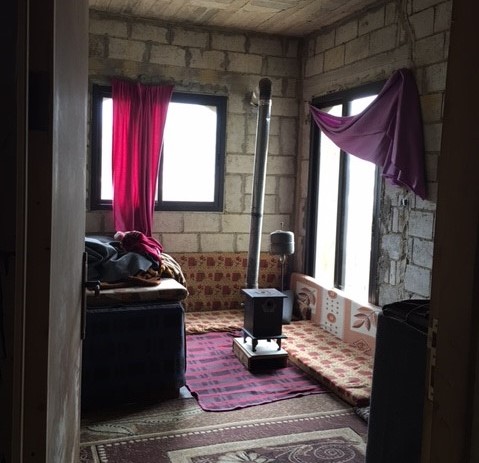 By Carolyn Miles, President & CEO, Save the Children
As I sit on the plane on the way back from Beirut, Lebanon, typing at 30,000 feet, my mind keeps going back to one of the more emotional moments I've experienced in a long time. I'm back to a small set of chilly cement rooms where a mother, father and three children live in northern Lebanon, listening to them tell me about how they fled here after years under siege in their home village of Hamah in Syria. The family had seen such heartbreak that it was hard to take it all in during our brief time together but now, at cruising altitude, it hits me like a fist.
Perched on thin mattresses on the cement floor, we asked the mother and father about their journey and what life was like for them.
They started by thanking Save the Children for the help we had given by putting doors and windows into the bare concrete walls, in installing a sink and toilet in the apartment, and making the stairs safe to use. The father talked about how he has only been able to get sporadic work in the northern Lebanese village; Syrians are only allowed to work in construction, agriculture or low-skill odd jobs and it meant their resources were incredibly stretched. A young boy, less than two years old, sat in his mother's lap and a cute, energetic 4 year-old played peekaboo with me and giggled loudly. Then one of our team asked an innocent question – why was their 8 year-old son, stirring under a blanket on the raised platform bed in the room, not in school?
The father looked down and we saw the pain cross his face as he told us that his son, Haddi, fell from a two-story balcony in the unfinished building eight months ago, shattering his hip. After two unsuccessful operations, he had a third one three weeks before our visit; this operation cost the family all of their savings and put them further into debt. His mother began to cry as she told us how they had tried to get him to the best doctor they could find and showed us the X-rays—images that showed three screws in a small, fragile hipbone. This boy was not in school because he was in intense pain and had barely moved since they brought him back from the hospital. I saw the shocked look on the face of our local team member who managed the work on the apartment, who had not seen the family since before the accident and had no idea it had happened.
We tried to think of what to say to this family, to give them some hope that their son would be okay. In a circumstance I can only describe as fate, one of our visitors with me on this trip was from the Pacific Northwest and her daughter had been in an accident as a young girls and had the same operation for her crushed pelvis. She comforted the weeping Syrian mom as best she could, telling her about her daughter's story and full recovery. But we knew that was with some of the best medical care in the world and months and months of rehabilitation. This was not after three surgeries, laying on a wooden bed with few medicines, no wheelchairs and no daily visits from a physical therapist. We wanted to give some hope but you could see in the parents' faces that for this family, hope was fading.
Later we spoke to our team about trying to get more medical care for Haddi, care that would probably stretch the emergency fund we keep for such dire cases to the limit. We will somehow find a way to help him.
But there are so many sad cases as the Syria crisis moves into its seventh year. So many thousands of cases of children's lives lost or shattered, of childhoods cut short when 11 year-olds begin to work picking vegetables, when 14 year-old girls are married to "keep them safe", when children leave their families to go on their own to try to get somewhere safer, better, saner.
As we spoke to some of UN partners the next day, I sensed some hope that, though it would be difficult, maybe on the horizon there will be a time when some of the 1.5 million Syrian refugees living in Lebanon feel safe enough to begin going back home. But as the war now stretches past the duration of World War II, I worry for the Haddis that we don't reach, that we don't know about, for whom hope and time is truly running out.
Please help us provide support and hope to Haddi and his family—and so many others like them—by donating to our Syrian Children's Relief Fund.