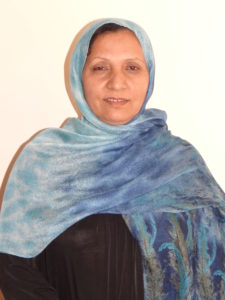 Anisa Naimi
School Health and Nutrition Officer
Save the Children in Afghanistan
February 28, 2017
My name is Anisa Naimi, I have been working as a School Health and Nutrition Officer with Sponsorship and Save the Children in Afghanistan for the past nine years. Sponsorship's health and nutrition programs are designed to improve the health of children and to reduce malnutrition, which in turn enhances children's scholastic performance. Healthy living habits are promoted by involving children in health campaigns held in their community or at their school. We arrange for at least two campaigns to be held in each village in which we work each year, on topics like the importance of healthy nutrition. Campaigns are coupled with the distribution of vitamin A supplements and de-worming tablets so children not only leave with improved knowledge of how to stay healthy but leave a little healthier that same day!
Vitamin A campaigns and distribution is one of my favorite parts of my job. After we meet with community members and other local stakeholders who help us organize campaign days, we travel to the far away villages that we bring our Sponsorship programs to.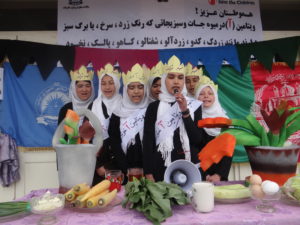 One such day we had to go very far, passing through rough roads, multiple valleys and by small villages. Once we were close to the school we started to see students and their parents walking from the nearby villages towards the school, where the day's event would take place. All around us children were confidently calling out to the villagers through loudspeakers to encourage them to participate in the activities.
The first thing we do when we enter a school is prepare child-centered health education groups, so that children can have fun while learning with their peers. We lead the groups in learning about health topics through role playing, singing songs and playing games. Children also learn how to spread messages about how locally available fruits and vegetables provide good sources of vitamins, by holding banners they've made and sharing presentations.
This was an opportunity for the children and their parents to spend time together and learn about healthy habits. The children explained to their parents or guardians the messages they've learned, for example to eat organic foods which are cheap and available in their community, and most importantly nutritious. One of the girls told me proudly, "This campaign was very helpful for us. I used to believe that only those things that were very expensive, like meat, were good for our health, but now I can prepare healthy food using vegetables [that are] locally available, for my family." Another said, "I spent a lovely day with my friends, and we conveyed health related messages to the nearby villages. I wish this day was celebrated more often!"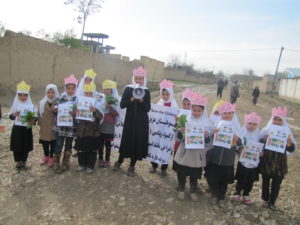 As a School Health and Nutrition Officer, I led the children in these exercises. I am happy to be spreading health messages to communities and schools to raise people's awareness about healthy habits and behaviors, and improving people's lives. During this year's events the children were all very active participants. We have been inspired by the children to continue working hard to implement the program. They dream of a better future, and we can help them make that happen.
Interested in joining our community of sponsors? Click here to learn more.