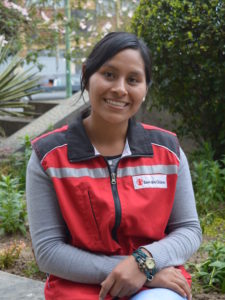 Noemi Maidana
Sponsorship Assistant
Save the Children in Bolivia
February 10, 2017
Hello, my name is Noemi. I am a Sponsorship Operations Assistant for Save the Children in Bolivia, here in Cochabamba. I would like to share with you some of the valuable work Sponsorship makes possible, and one of the amazing people that works directly with the families and children we support.
Meet Justa, a primary school teacher who has been working with children for over 22 years.
Justa is a very active, hardworking and loving teacher. She explained to us that before Save the Children started working in her school both students and teachers faced many problems. "This was a largely forgotten school by local authorities. [We] had many needs and were used to old fashioned and routine-based teaching methodologies."
When Sponsorship arrived, Justa viewed having Save the Children work in her school as a great opportunity to further improve educational quality for her students through its various programs. She regularly participates in Sponsorship workshops, meetings and activities to learn how to make her lessons more engaging and improve her teaching processes.
She understands the importance of the operational piece of Sponsorship, and how helping our programs run like a well-oiled machine on the ground directly relates to the funds we receive through donors. This combined with her great experience in our workshops and trainings motivated her to become a Sponsorship Operations Lead Volunteer in her school. She tells us Sponsorship is "Save the Children's engine".
In volunteering to facilitate sponsorship operations, Justa helps enroll new children into our sponsorship programs. The first and perhaps most important step of this process is meeting with parents to explain what Save the Children does and how it helps children, schools and communities. Justa thus acts as an ambassador for our programs in her community, helping to explain the purpose of our strategies in health and education, and sharing results from other Sponsorship supported areas and those already occurring in her school. She also encourages parents and teachers to attend events and fairs on topics like health, safety and education, to help them improve the learning of the children in schools and at home. By organizing meetings with parents and community members, volunteers like Justa help us continue to reach even more children in need.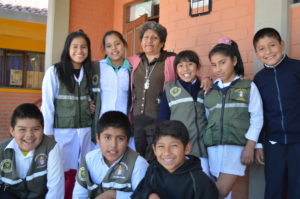 Justa shares, "I believe that all children receive help thanks to the support that each sponsor contributes to Save the Children's programs. I think that losing a sponsor is like losing a family member. Therefore, I consider [it] very important that children participate and exchange letters with their sponsors."
Have you written to your sponsored child recently? When you do, dedicated Sponsorship team members in each of our country offices sit with your sponsored child to help them compose letters to their sponsors, and learn about reading and writing while they do. Someone like Justa will be beside him or her, guiding them to put their thoughts into words and say hello from across the globe.
Interested in joining our community of sponsors? Click here to learn more.