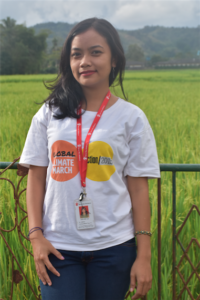 Malini Ribut Setiawati Febriliani Lalo
Project Assistant
Save the Children in Indonesia
January 12, 2017
Life in Weihura, Wanukaka may not be easy for Uli, a hard working farmer. Yet he never fails to welcome each day with a smile. With that gap toothed smile, he shows his daughter how to appreciate simple beauties in the midst of life's difficulties. Ignoring his constantly sore back from ploughing the paddy fields, he still carries his four-year-old little girl, Tika, on his shoulders to kindergarten. "I want all my children to be well-educated so they can have a better future. There is no future without education. I will do whatever it takes for them to get the education that they need," he said enthusiastically.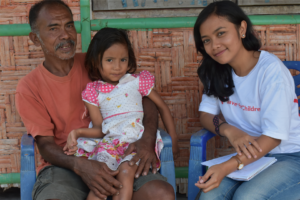 Uli is one of the many parents who has seen the kindergarten in his community make a big difference in his child's life. It is one of the kindergartens in which Save the Children implements its early learning programs, thanks to Sponsorship funds. This Sponsorship program includes trainings for teachers, the provision of teaching and learning materials, and even parenting classes for the parents. Uli enjoys his daily routine of taking his beautiful daughther Tika to school and picking her up afterwards. For Uli, nurturing and taking care of children is not just a mother's responsibility, but also a father's. At home, Tika always shares her endless stories about her activities at school with him. Uli always wonders what his daughter will learn the following day, and is always ready to hear about it. Will it be singing, dancing, or making crafts? Will she sit on his lap and show him her drawing? He tells Sponsorship staff, "Tika learns much faster now as they have learning materials available at school. Her teachers also know well how to treat children and how to learn and play with them."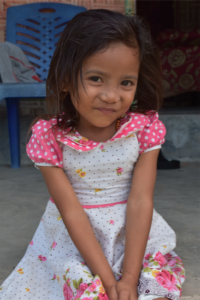 On certain days, Uli attends parenting classes with other parents at school. In these classes, he learns how to communicate with his children in a better way. He used to get angry very easily with them even at their small requests. Now he has found himself more patient and communicative. He has also found that Tika is getting closer to him. They now spend time after school playing together. There is no longer fear on Tika's face every time she comes to him for a question. He has learned how to explain things to her very gently, "It is redemptive to experience the better connection between Tika and I. I feel like I am a good father to her," he proudly said with a big smile on his face.
Thanks to our sponsors, parents like Uli in Indonesia are learning how to better connect with their children each day, not just in terms of their learning but also emotionally. Building the relationship between fathers and daughters is so important, not only in the places where Sponsorship works but also here in the US. Do you have a special father-daughter memory you can share with us?
Interested in joining our community of sponsors? Click here to learn more.