Alicia Adler

Program Officer at Save the Children Malawi
January 9, 2016
Imagine spending at least 20 hours a day, 7 days a week with a baby strapped to your chest. Imagine you must eat, sleep, work and care for your other children along with a tiny baby who depends on your continuous skin-to-skin contact and exclusive breastfeeding for survival. This is the basis of kangaroo mother care (KMC), a cost–effective intervention to help meet a premature or low-birthweight baby's basic needs for warmth, nutrition, stimulation and protection from infection.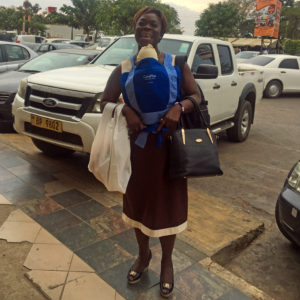 For Malawi, with the highest preterm birth rate in the world (18 per 100 live births), KMC is a critical lifesaving intervention. But too few premature babies receive KMC due to lack of awareness, limited resources, and stigma against both KMC and premature/low-birthweight infants. It is not surprising, then, that direct complications of preterm birth are the second leading cause of child deaths after pneumonia, and result in more than 14 newborn deaths every day in Malawi. 
To commemorate World Prematurity Day 2016 on November 17th, Save the Children staff in Malawi accepted the KMC Challenge. Participants practiced KMC with a baby doll for 24 hours – holding the doll throughout work hours, around town and at home for the night. The challenge was accepted by other partners across the country and globe.
Jessie Lwanda, an IT coordinator said, "By doing this challenge, we are saying, 'let's give these babies a chance to survive by showing them love and carrying them close to our heart.'"
"I have a passion for every child to survive," said Mavis Khondiwa, a Save the Children grants coordinator based in the United States. "Through this challenge I could understand what kind of burden those mothers with premature babies face. I really feel for them."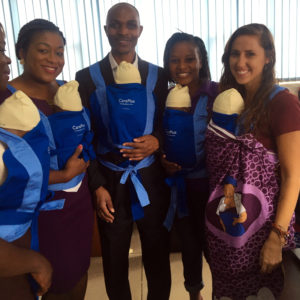 Over the course of the day, 20 men and women got a glimpse into the life of a mother with a premature baby and all the issues it presents. "Through what I experienced as a man doing the challenge, I think women need more help," said Nyashadzashe Kaunda, an awards management officer. "Men should also be taking care of the child and helping throughout the whole KMC process," he said. 
At the end of the 24 hours, colleagues returned the dolls and resumed their normal lives. For women around the country, it isn't so easy, though, as their child's life depends on their continued commitment to practice KMC until the baby reaches a healthy weight. In a country where neonatal mortality accounts for 40 percent of all death in children under age 5, it is everyone's responsibility to champion KMC, and not just on World Prematurity Day, but every day. 
Save the Children is helping shift norms around the value of newborns in Malawi through the government's social and behavior change communication (SBCC) campaign, Khanda ndi Mphatso (A Baby is a Gift: Give it a Chance), helping establish KMC "sites of excellence" in district hospitals, and collaborating with the Ministry of Health to develop a national routine reporting system for KMC services in health facilities.
To learn more about our work to improve newborn survival, click here.
Alicia Adler is a program officer and Global Health Corps fellow with Save the Children in Malawi.