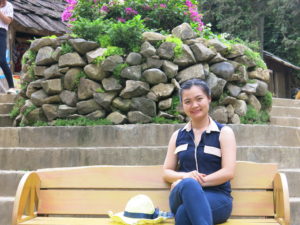 Phan Thi Kim An
Field Project Assistant
Save the Children in Vietnam
January 26, 2017
Taking a trip down memory lane, I remember nostalgically it was on a sunshine-filled afternoon during a trip to a mountainous commune that I met her – a 7-year-old girl with such a beautiful name, Yen, which means "peace" in Sino-Vietnamese. Sadly, her life is not as peaceful as that name…
Being born into a needy family with 4 siblings, Yen's older brother had to drop out of school in order to make a living even though he was still young. She also has 2 sisters, her older sister in grade 8 and her younger who has just turned 3. In a twist of fate as entering the first grade, Yen unfortunately had a serious accident and suffered burns to nearly half of her body. Hardly ever can anyone avoid feeling sad, thinking about the great pain that little girl has suffered since her early childhood, when they see her.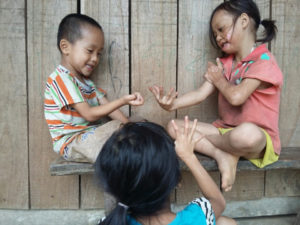 Schooling is always a modest dream of every child in the communities where Sponsorship works in Vietnam, and on traveling the rough road to school that the vulnerable children here endure, the strong will of Yen is really something to be admired. Due to the deep burns, part of her lovely face is deformed considerably and an arm is made difficult to move. This makes studying much tougher for her than her peers. Gently holding her little hand when I met with her at her school, I touched the scabrous skin, asking if it was painful. She shook her head in silence.
Holding the day's lesson book in her scarred hands, the little girl tried to speak though the old burns make her lips hurt. Each word was pronounced slowly, but clearly. We were all deeply moved and understood her heartfelt desire to learn like her other classmates. Hard as it is, Yen painstakingly goes to school every day. Shy, she often keeps her head down when meeting strangers but laughs happily with mischievous eyes during moments by her siblings' side. I always keep in mind the image of Yen's father, the man standing quietly outside the class, watching his daughter with sad and distant eyes. Sometimes, a few students make fun of her, saying that she is ugly, which makes the poor child burst into tears.
"Did you feel sad, Yen?" I asked her. She nodded in silence. "Why?" She answered sadly, "Because I'm different from others…"
I obsessed over those simple words for a long time, thinking about the bitter difference the little child could feel between her and the outside world. Thinking about true values that Project Officers like me keep pursuing each day, I remembered Save the Children's "We will be the voice" promise to children in need. Through providing trainings and activities for teachers to boost teaching methods for handicapped students, we wholeheartedly hope to break all invisible distance and ensure children with disabilities enjoy an equal and sociable life with the others. We also run social events that raise community awareness on the issues these children face, for example, by arranging "tea talks" with families of children with disabilities and community members.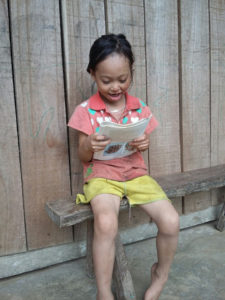 "Yen, do you like going to school?" I asked.
She did not say but nodded her head with a bright smile. At that moment, the smile on her scarred lips was as vivid and shining as the sunlight on that afternoon. There is something that lit up her eyes, something that makes me believe that one day, the little girl will keep her head high, and answer in her own voice confidently and proudly "Yes, I do!"
As our programs continue to grow in her school and community, I'm confident her life with continue to improve as well. Day by day, thanks to our sponsors we reach more and more people with our approach to children with disabilities, and I've seen firsthand that things are beginning to change.
To learn more about sponsoring children like Yen, please visit: Sponsor.SavetheChildren.org/Future18.