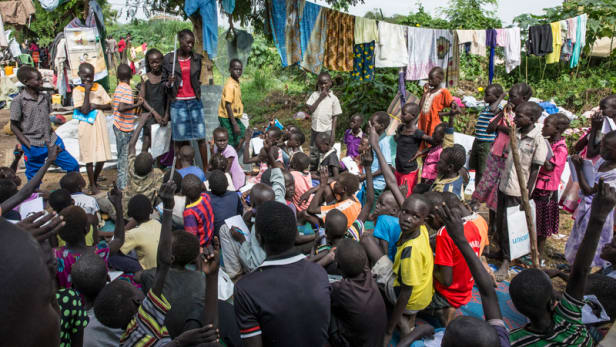 Originally published on devex.com
One hundred and ninety-three countries are represented at the United Nations General Assembly this week. Another, despite having a population larger than the United Kingdom, lacks an ambassador, a foreign minister, or a president to advocate for it.
Given that, leaders gathering in New York for UNGA have an obligation to make sure that the world's 65 million forcibly displaced people — a population large enough to form the 21st largest country — are protected, provided with quality education and health services, and given access to jobs. Empty promises will not be enough.
The scale of the problem has never been this large. In 1945, the United Nations was created to mitigate and prevent conflicts such as World War II, which had left tens of millions dead and caused more than 40 million men, women and children to become refugees.
Landmark documents such as the 1951 Refugee Convention were drafted to define who is a refugee and to which rights such people are entitled. Signed by 145 countries, the convention was designed to protect those forced to flee until they could go home or be resettled in a new country.
Fifteen years of war in Afghanistan, Iraq, Syria and elsewhere have shown that the post-World War II system is taxed, and many of the assumptions under which it was created no longer hold true. Today, millions are forcibly displaced by violence, to say nothing of the millions of other "survival migrants" who are forced from their homes due to climate change, economic conditions, or hunger that threaten their lives and the lives of their children. For many, displacement last years or becomes permanent.
It is time to acknowledge that protracted conflicts and the displacement they create require new ways of thinking and problem-solving. Nothing illustrates this need as clearly as looking at how the world's 21st Largest Country would compare to actual countries in terms of economic opportunity, education, health and other development indicators.
The results show both the challenges faced by refugees and internally displaced people and the contributions they could make if given a chance and the tools to succeed. In a new report, Save the Children conducted this analysis, and found the following:
The 21st Largest Country is the fastest-growing in the world, expanding by 9.75 percent in the past year. At this rate, the population would become the world's fifth largest by 2030. Such growth demonstrates the scale of conflicts around the world as well as the urgent need for governments and the aid community to help millions of people in crisis.
Children in the 21st Largest Country are being held back compared to children in other countries. According to UNHCR, only 50 percent of refugee children attend primary school — one of the worst school attendance rates in the world, behind only Liberia, Eritrea and South Sudan. In terms of health, the leading causes of death for refugee children under 5 are preventable and treatable illnesses: pneumonia and malaria. We also know that child marriage tends to be most common in communities facing crisis, because parents often see it as a way to shield their children from poverty and exploitation. Data on child marriage among refugees and displaced people is not readily available, though we do know that early marriage among Syrian refugee girls in Jordan rose from 12 percent in 2011 to 32 percent in 2014 — an alarming 167 percent increase over three years.
The global refugee crisis is one of the central issues at this year United Nations General Assembly gathering, including at private sector forums highlighting the role of business to address the challenge.
The frustrating thing about this is that there could be positive news for displaced children if political leaders chose to address these issues. Efforts to increase access to education, improve health, and lower rates of child marriage have been successful when there is the political will and financial resources to do so.
We also determined that the 21st Largest Country could have the world's 54th largest economy, having calculated the collective value of forgone production among refugees and internally displaced people. Displaced people want to work, to support their families and provide a future for their children. The figure represents an opportunity for countries who understand the benefit of increasing their human capital and growing their economies.
I have met with refugee families from all over the world, most recently in Germany and Connecticut. Just like citizens of actual countries, people in the 21st Largest Country are a diverse group in terms of ethnicity, socioe-conomic status, religion and political opinions. But regardless of how a family got to Tempelhof refugee camp in Berlin or under what circumstances they resettle in the United States, everyone I have spoken to wants educational opportunities for their children and to be a contributing member of the society in which they live.
Now is the time for leaders to commit to new and greater help for refugees and the countries that host them. Three actions are most important to help families and children:
First, leaders should commit to have no refugee child out of school for more than 30 days after crossing an international border. Children want to be in school. In a survey we recently conducted of Syrian and Afghan refugee children in Norway, nearly 4 in 10 said education was their top priority, compared with needs such as water and shelter. Quality education not only helps children process the violence and trauma they have often experienced in their home countries and on their journey to safety, it also helps them develop skills they will need to be productive members of society.
Government leaders and the private sector also need to commit to increasing job opportunities for refugees. Jobs promote self-reliance and address the role that poverty plays in perpetuating harmful practices such as child marriage and exploitation in informal employment.
Finally, governments, NGOs, and the private sector need to work to increase humanitarian funding and ensure that money for development projects can also be used to address the education, health and protection needs of displaced people.
One year ago, leaders committed to making the Sustainable Development Goals a reality by 2030. This week, states pledged to help refugees and migrants at two high-level summits. Commitments now need to be translated into action in order to prevent life from getting worse for families and children in the 21st Largest Country.