Fahim Shahriar
Deputy Manager
Save the Children in Bangladesh
December 28, 2016
"My older child is in good health and learning well. Also, I have got a healthy baby very recently who is 15 days old." Ferdousi, age 26, tells us. She lives in Rayerbazar, a slum community of Dhaka city, with her family. Her husband Saddam, age 36, works as a day-labourer, meaning without a fixed income and hired in the short-term, while she tends to their home and two children. Her oldest son, Shahadat, is over two years old now. He and his mother joined Sponsorship under Bangladesh's new programming, Maternal and Child Health, in 2015.
Since then, Ferdousi has benefited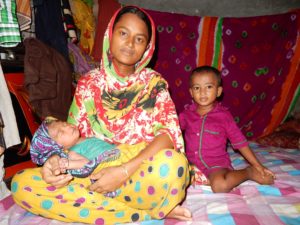 through the provision of counselling sessions which began when she was still pregnant with her younger son, Sazzad. Thanks to sponsorship funds, Save the Children in Bangladesh is able to offer training for pregnant women and moms of newborns through community center-based sessions or home visits, on topics like danger signs to be aware of during pregnancy, the importance of vaccinations and having delivery in medical facilities, and other essentials of newborn care and services. Ferdousi explains from her own experiences, "Previously, I did not know about the risks for a pregnant mother and a newborn, and also the care they need. But, I have learned about those dangers and necessary measures during my recent pregnancy. My husband also took much [more] care of me and I saved some money for the delivery period."
Similar sessions are provided for parents of babies and up to toddler-aged children under our early stimulation parenting programs, another way sponsors are helping parents in Bangladesh aid their young children's development. Early stimulation parenting programs teach parents how to use playtime to promote language and communication development, utilize gentle discipline, manage healthy hygiene practices and provide healthy and nutritious foods to their children. Both parents and children learn with illustrative cards and colorful picture books. Being a regular participant in this kind of Sponsorship programming, Ferdousi tells, "My older son can identify distinct vegetables, tell their names and mention their shapes. He likes books with colorful pictures. Besides, I learned to take proper care of his health by maintaining cleanliness and feeding for his nutrition."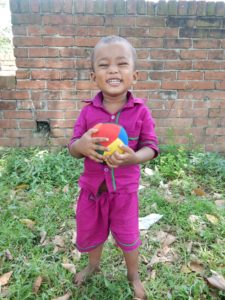 Even in addition to this, Save the Children also supports Ferdousi and her family by helping her track Shahadat's height and weight to ensure he is getting the nutrients his growing body needs. Ferdousi adds, "I like Sponsorship support, because I learned to take care of my children to grow with good health and learning." Their little baby Sazzad, a boy just a couple weeks old, has already benefited in the extra care Ferdousi took during her pregnancy.
This family of four, Ferdousi, Saddam and the two boys Shahadat and little Sazzad, send their love and thanks to our sponsors of Bangladesh. Thank you, from the bottom of our hearts, for your support!
Interested in joining our community of sponsors? Click here to learn more.