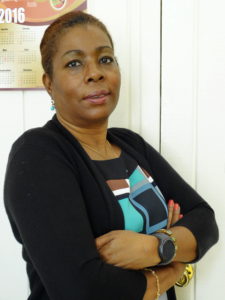 Faïmi P. Moscova
Sponsorship Manager
Save the Children in Haiti
December 2, 2016
We at Save the Children in Haiti always encourage sponsors to visit our programs in order to see first-hand how our work together changes the lives of Haiti's children. We are always very excited and happy when we receive a request for a sponsor visit because we don't get to host too many of them. When we do get to organize a visit, we do everything we can to ensure that both parties have an enjoyable and memorable experience. I wanted to share this story to show the impact a sponsor visit can have, in just a few short hours.
Ten-year-old Love Dayana has been enrolled in Sponsorship since 2013, a year after Save the Children first began implementing Sponsorship programming in her community. Her sponsor Daniela contacted us to let us know she was interested in visiting Love Dayana and seeing how our programs benefit children in Haiti in person. Love Dayana tells us that the visit that took place over just one day was the most exciting event that she had ever experienced. This was the first time in her life that someone she exchanges communications with from afar wanted to meet with her, face-to-face! She was thrilled at the opportunity to see her sponsor in person.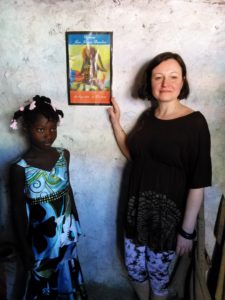 As the day began, Love Dayana met and welcomed Daniela to her rural community, along with her mother and two Sponsorship staff members. Love Dayana acted quite shy, and from a distance but with a smile looked her sponsor over from head to toe. After they introduced themselves to each other, the unforgettable visit started.
At first, Love Dayana's mother did all the talking and she quietly but happily listened. Slowly, she became more open and friendly towards her sponsor. They exchanged some stories and discussed personal cultural values between the two different backgrounds. Love Dayana talked more and more, sharing about her school and her interests. They were able to hold lively conversations since Daniela knew some French, which also helped create a more relaxed atmosphere.
Together they traveled around, visiting some sponsorship supported schools and local historical monuments. They ate lunch together – a special traditional Haitian cuisine that Daniela welcomed with pleasure. As the day winded down both were feeling emotional. Love Dayana was visibly comfortable and at ease, hugging her sponsor and holding her hand as they walked. As they said goodbye, she hugged Daniela again and thanked her for the visit, saying, "I hope you will come back again soon to see me," and Daniela replied "Me too, I hope I can come back soon to see you again." Love Dayana then asked her sponsor to use her cell phone to take a 'selfie' of them both together.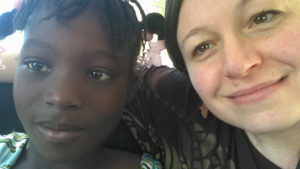 Love Dayana shared that she hopes that all the children enrolled in Sponsorship could have the same opportunity, that one day their sponsors will come to see them. "Since the day my sponsor left, I became very popular in my community because I am the first and only child who ever had a sponsor visit!" concluded Love Dayana proudly. She will carry this feeling of self-worth and confidence with her into school each day for long into the future.
This was just the second sponsor visit that Save the Children in Haiti has hosted since the implementation of the Sponsorship program in Dessalines, back in January of 2012, so it was a great honor to be a part of it. To our dedicated sponsors, we thank you! Know that you are making a difference in these children's lives every day. You are most welcome to come and visit Save the Children in Haiti for yourself. Seeing your sponsored child face-to-face is truly a wonderful and unforgettable experience! It would be our great pleasure to host you.
Interested in joining our community of sponsors? Click here to learn more.