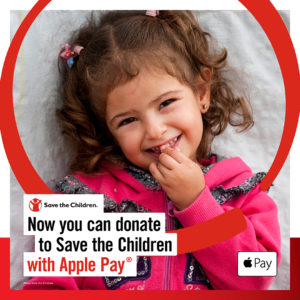 Looking for a faster, easier, more secure way to give? Save the Children is excited to announce that supporters can now donate using Apple Pay.
Save the Children has a long history of innovation in our work and in ways donors can support our mission to serve children, and because of this, we're thrilled to be among the first charities to offer Apple Pay. As mobile payments and digital wallets become more and more popular, we want to make sure that our supporters can help children around the world in the way they feel most comfortable.
"Save the Children is excited to accept Apple Pay to make it easier for our supporters to donate to our programs benefiting children around the world," said Carolyn Miles, Save the Children's President & CEO. "We're embracing this new technology that makes supporting our work easier, faster, and safer."
This isn't the first time we were first movers in digital payments for charitable giving. As an early adopter of PayPal, Bitcoin, PaySafeCard, G2A Pay Wallet, YouTube donate cards and Facebook donate buttons, we continue to look for ways to adopt to consumer demand by providing a variety of secure and easy ways to give to our mission.
With Apple Pay, donating on our website is now as simple as the touch of a finger with Touch ID, so there's no need to manually fill out lengthy account forms or repeatedly type in billing information.
Apple Pay is easy for users to set up, but most importantly, security and privacy is at its core. When supporters use a credit or debit card with Apple Pay, the actual card numbers are not stored on the device, nor on Apple servers. Instead, a unique Device Account Number is assigned, encrypted and securely stored in the Secure Element on your device. Each transaction is authorized with a one-time unique dynamic security code.
When supporting our mission on the go, Apple Pay works with iPhone 6 and later, iPad Pro, iPad Air 2, and iPad mini 3 and later. You can also use Apple Pay in Safari on any Mac introduced in or after 2012 running macOS Sierra and confirm the payment with iPhone 6 or later or Apple Watch.
To donate to Save the Children using Apple Pay, visit: www.savethechildren.org/ApplePay