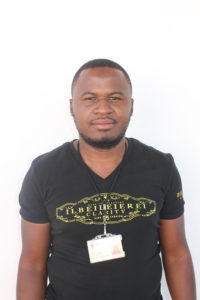 Kelvin Kasuba
Quality and Communications Coordinator
Save the Children Zambia
November 2, 2016
The day had finally arrived. The people of the Fipokola community put on their best and gathered for the long awaited ceremony. It was the kick off of the Lufwanyama Education Rehabilitation project, through which Save the Children Korea, one of the offices that supports Sponsorship in Zambia, was about to make a big change in the lives of the children and families of this community. This project targets high-need communities in the district for the building or reconstruction of schools.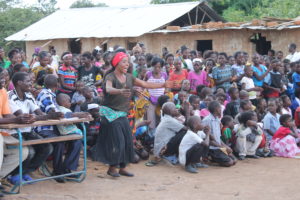 It was a colorful scene. Tents were decorated with colorful materials and banners were displayed all around. What caught my attention the most was the large crowd that had gathered – upon arrival the whole village it seemed followed behind our vehicle, chanting songs of jubilation and about the great things Save the Children had already done in their community. The occasion was graced with very influential people from society, two Save the Children Korea staff members and also his Royal Highness Chief Lumpuma, the community leader of Fipokola.
In his speech, Chief Lumpuma shared guidance with his people. He called for them to embrace education if they were to succeed. He advised parents to avoid engaging their children in early marriage and other activities at the expense of their education. He said, "I also thank Save the Children for the rehabilitation of this school and for considering us for the first school [to receive support] under the Lufwanyama Education Rehabilitation project."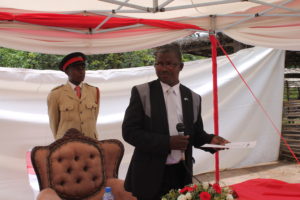 Amidst the excitement one boy told me, "I am happy today because a new school will be built. And I am happy because I will be a part of a new school which will have a better look and books that can help make me a better person in the future, like a doctor, teacher or lawyer." I was so happy and speechless to see how joyful the parents were at seeing a step of action taken, and the children at their brightened future potential.
It is indeed a dream come true in Fipokola, and it is thanks to Child Sponsorship and Save the Children Korea that they will have the resources needed for construction. From the bottom of our hearts, thank you, sponsors!
Interested in joining our community of sponsors? Click here to learn more.