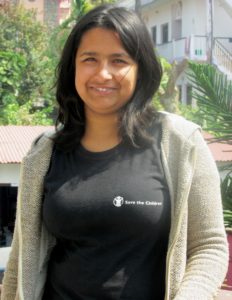 Rupa Gautam
Media and Communication Officer
Save the Children Nepal-Bhutan
October 12, 2016
It was during one of my regular visits to a Sponsorship supported school when I met Kajal. Attentive, curious, interactive and joyful, Kajal was participating in all her class activities with great enthusiasm. She looked like all the other kids throughout the class, reading and writing alongside her classmates. It wasn't until she walked up to her teacher with a question that I realized that her legs were weak and uneven, and that she could not walk properly.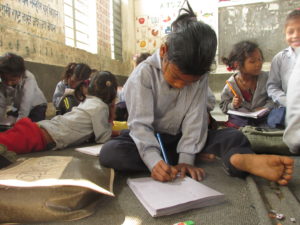 I wanted to know more about this bright eyed girl. So, I inquired about her with her teacher. Her teacher excitedly shared that their village, with a total of six schools, would not have reached their milestone of 100% enrollment in the current academic year if Kajal had been left behind at home, like she was the previous year.
Save the Children has been very persistent in getting every last child enrolled in school. Seven-year-old Kajal used to stay at home while the rest of her family, made up of her parents and two elder siblings, went about their own business outside of the house. Nobody in her family believed that schooling would do her any good, due to her condition.
Kajal showed me how she wrote her name. Her name means kohl, which is used to line one's eyes in Nepal. She also showed me her drawings and read to me from her grade one book. Since she did not go to Save the Children's Early Childhood Care and Development center before grade one, like so many of the other kids in her community did, she has a little difficulty in reading and writing. But Kajal doesn't let that stop her from learning. I saw this myself – when she had trouble writing a word she didn't know, she asked for my help, then shyly handed me her paper and asked if I would check her classwork.
Every year, out-of-school children are identified in the communities where we work.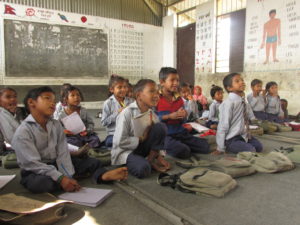 We reach out to their parents and advise them about the importance of enrolling their children in school. Those out-of-school children, which often includes children with special needs like Kajal, are brought to school with sponsorship supported programming that includes parent orientations, door-to-door visits, counseling sessions and educational material support to ensure that no child is left behind at home.
Kajal's success is just the beginning of what we hope to achieve for the children of Nepal. All of us here at Save the Children in Nepal-Bhutan are eager to continue working in these areas – to commit each parent to sending all their sons and daughters to school. And with our sponsors by our side, they will, because every last child matters.
Interested in joining our community of sponsors? Click here to learn more.