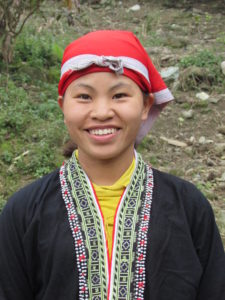 Tan Senh Chieu
President of the Women's Union and Community Volunteer
Save the Children Vietnam
October 28, 2016
I am Chieu, President of the Women's Union in Tong Sanh commune and a mother of 2 kids – my son is seven-years-old and my daughter is three. I also have been a community volunteer with Save the Children since October 2015. When I started working with the Sponsorship program I felt wonderful, because I always aspire to devote my enthusiasm and time to helping those living in poverty. Happiness is now here, where I can frequently see our kids playing and learning in a safe environment.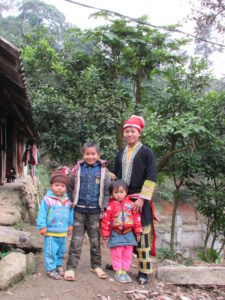 My homeland is very poor. Most of the territory is hilly and income totally depends on the rice or corn harvest. Come rain or shine, most children only have a few light clothes to call their own. In school, due to the lack of learning and teaching materials, students would just play with old toys or roll about aimlessly in the mud and sand. Since Save the Children started working in Tong Sanh, it has supported my children and the children of my neighbors. As a result my homeland has changed a lot.
One day, when I picked my daughter up from kindergarten, I suddenly saw in the schoolyard a new outdoor play area decorated with colorful painted car tires. My daughter was beside herself with excitement, and told me, "Mommy, today I felt so happy while playing with the slide, which I could see on television but couldn't touch before." Around the same time, my son shared with my husband and I that his school had a new water system, and he was learning about washing his hands with soap. I was so happy because our children no longer had to play in the dirt, and could wash their hands with clean water whenever they wanted!
I met with my kids' teachers to express my gratitude for the positive recent changes I'd seen. They said that all those things were thanks to Save the Children Sponsorship support. I felt very excited and looked forward to having a chance to learn more about Save the Children.
That chance came when the Vice Chairman of Peoples Committee for our community informed me that Save the Children was seeking community volunteers who would commit and be willing to take on the responsibility of being the connection between sponsors and sponsored children. To be honest, at that time I was vague of what all those words really meant, but I simply understood that I could contribute to the community's development through participating in these program activities.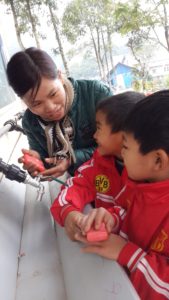 I remember vividly the most impressive task I completed was the first child enrollment campaign at the local primary school. Save the Children staff took portrait photos of children, while teachers guided students on writing letters, and I interviewed parents to collect the family's information. Since this was the first enrollment campaign at this school, both students and their parents were a little nervous, but so excited too. Everyone involved gave their support and active participation to ensure the day's activities went smoothly.
While working in the field, I've seen the bright smiles and happy faces of the children Sponsorship reaches. I realized that choosing this job was absolutely correct. Children will have better learning conditions with new latrines, new classrooms and teacher training courses – none of which would we be able to access without Save the Children support. Thank you, sponsors, so much!
Interested in joining our community of sponsors? Click here to learn more.