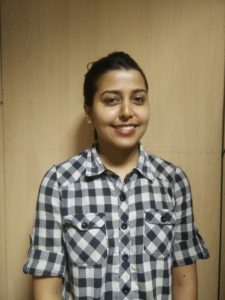 ANimma Adhikari
Sponsorship Communication Officer
Save the Children Nepal-Bhutan
September 29, 2016
If you travel to the southwest of Saptari, you will find yourself in the middle of tall, green rice paddy fields. We were awed by the beautiful, flowing green colors, where electric water pumps stream in a constant water source. However, as we moved deeper inside the village, the green turned to bare dry land, reflecting much more the living conditions of the families that call this area home.
A couple of weeks ago, we met with the community members and parents of children enrolled in our sponsorship programs in a village in Saptari district, our new programmatic area. Our intention was to determine how the community members felt about Sponsorship in their village so far, and how much they have understood about our programming, since we just recently began working in this area. Community members gathered with us in a small classroom, ready to listen attentively to what Sponsorship ultimately means for their children and families.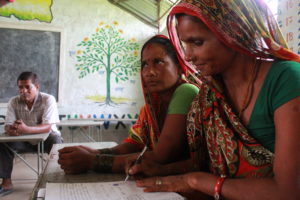 We had made sure to request female participation as well, since we anticipated the meeting would be filled with eager male voices only. We were glad to see several concerned mothers, draped in sari, their heads covered to veil their faces from the men in the room. I watched closely as one of the women, I later learned is named Guheshwori, signed her own name to the attendees list. For a woman, to be able to sign your name in a rural community such as this is very rare. I watched a quiet smile appear on her face as she signed, radiating female pride in joining this organized meeting, the kind of community event typically reserved for the men.
During the meeting, Guheshwori looked at me and smiled. She told me, "My sons are enrolled in the program," in the Nepali language. I was surprised to hear Nepali spoken in this village, and must have looked it, because she then explained, "I am from Gaighat. I used to speak in Nepali but I started speaking in Maithili [the local language in the village] only after moving here after marriage." She then started telling me how excited her children were to be enrolled in Sponsorship. One of her sons had even already started bringing program lessons home with him! He had approached her and began explaining eagerly why she must wash her hands before eating and after going to the toilet.
"My children tell me everything. They tell me what they want to study in the future and what they wish to become when they grow up," Guheshwori went on. "I understand education is very important for my children. Only education will help them transform this community."
I nodded with happiness. This short conversation I had with this proud mother was more than enough to make my day. It showed me that even though we've just started forming a relationship with this village, already the benefits of our work is being realized.
When the meeting concluded, I was assured that Guheshwori, along with the other mothers who joined the meeting, would stop at nothing to see that their children were provided an education. And while doing so, she would gradually inspire her neighbors to join her in being just as involved.
Interested in joining our community of sponsors? Click here to learn more.