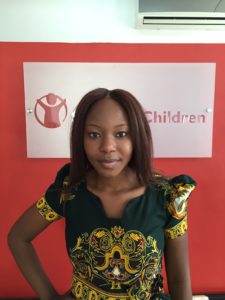 Memory Champiti
Quality Communications Coordinator
Save the Children Malawi
September 20, 2016
The rain poured on endlessly, hammering on the rooftops and turning the sidewalks and roads into vast oceans. Soaked men and women sold goods on the sides of the road. Young girls and boys skipped rope in the rain with resounding, joyful voices. Something about this day made me feel hopeful.
As we slowly drove up to the entrance of the school we planned to visit that day, I could not help but enjoy the beautiful faces of the children outside, clad in their uniforms of emerald green shirts and charcoal grey shorts and skirts. This was how my ninth day at Save the Children had started. I have recently joined the team as the new Quality Communications Coordinator, to ensure the stories and letters our sponsors receive help them understand the great work their donations support.
I had been looking forward to this day, as I would see firsthand one of the communities in which Sponsorship works. We would be delivering a letter for Stephano, a 13-year-old boy who attends grade 6 here, from his sponsors.
In the company of Henry, our liaison for Stephano's community, we got out of the car and were welcomed enthusiastically by the Deputy Headmaster of the local school, Mr. Jonazi, who led us to the staff-room. Just moments after a jubilant young boy showed up beside me. Mr. Jonazi, in his soft spoken voice said, "This is Stephano." My face quickly lit up. Immediately, we went back outside to retrieve Stephano's small package from abroad.
As I handed him his letter, the joy could not be concealed from his face. He grinned from ear to ear like a Cheshire Cat. He carefully poured over every word of his letter before settling down on a plastic chair outside the school to compose his response, under the now clear and calm skies.
"I am very grateful for my sponsors," he said earnestly as he finished his letter for them. I carefully tucked his letter away, to be transported back to our main office before making its long journey to the hands of his sponsors.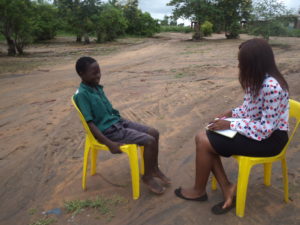 The days experience truly melted my heart. I now know that I am a part of making a profound difference in the lives of children in this community. Small things, like having a letter to call your own, can help a child feel fulfilled and empowered. As I look forward to my career ahead with Save the Children in Malawi, I am excited to witness more powerful visits with children like this one.
Interested in joining our community of sponsors? Click here to learn more.