Sylvine Bule
Data Officer
Save the Children Zambia
September 16, 2016
After a tiring trip to one of the most hard to reach areas in which Sponsorship works in Zambia, we arrived at a small community school that has been struggling to stay functional for a very long time. The main aim of my trip to this village was to hear from different members of the community, including parents, teachers and children, on the current condition of the school and the needs of its students.
I will never forget the words spoken by one of the teachers upon our arrival, "Madam, we have heard promises from various other organizations willing to help us to build a better school. For 15 years we have waited for such words to come to life."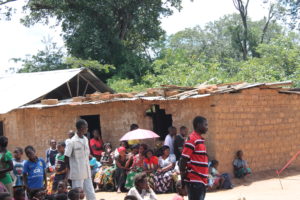 "15 years?" my heart sank at the thought of the community being in such dire need for so long as I looked at the crumbling building.
She led me to the classroom block made up of two small rooms. In the first, young students took refuge in what appeared to be a class session. Children from the ages of about 3 to 6 were squeezed tightly onto small benches, with 8 or 10 children teetering on each one. The benches were simply made with loose planks supported by burnt earth bricks.
As the children noticed a strange face enter the room they all stood up and shouted, "Good morning madam!" I smiled back and responded happily, despite being troubled by the poor classroom conditions.
I was again led to a different class where my heart sank even more. It was a class of two different grades forced to share one teacher and learning space, a common circumstance in villages like this and a detriment to the learning of both age groups. A small board hung nailed to one of the mud walls, with the already limited writing space divided in half to accommodate the different lessons for each grade.
"This is a class of grade 4 and grade 5 children," the teacher explained. "I have to start with the lower grade, teach them and then give them an exercise to write. Once I am done, I split the board into two, and write for the other grade on the other half."
The classrooms were both very full – the children with bare feet and soiled faces, yet very eager to learn. I noticed already there were some school materials branded with the Save the Children logo, the beginnings of more work to come. I felt proud – though small, our contributions already were changing the lives of some of our country's least privileged children.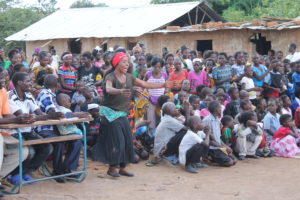 I could only imagine how the community would feel once a school was finally built for them, a goal that Sponsorship will be able to help them achieve for themselves. I thought about the lasting and sustainable solutions the new school would bring. In the faces of those young children I envisioned doctors, lawyers and yes, future presidents of our country – with a story to tell and with Save the Children a happy part of it. It is possible, I thought to myself. We will change these children's lives forever.
Interested in joining our community of sponsors? Click here to learn more.