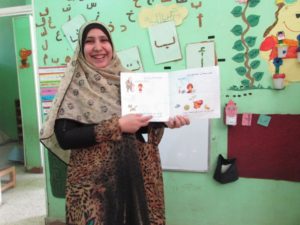 Mirvat Mahran
Early Childhood Care and Development Teacher
Save the Children Egypt
September 1, 2016
I'm Mirvat Mahran, a teacher at one the preschools supported by Sponsorship, in a village called Arab AlQadadeh in Egypt.
My preschool takes part in Sponsorship's Early Childhood Care and Development (ECCD) program, which targets children under the age of 6. This program focuses on the development of young children to ensure they enter primary school with the skills they need for school success. Through activities like interactive games, songs, storytelling, social interaction and outdoor play, we help make sure children grow and thrive. In remote areas, where this important stage of life is often neglected, the ECCD program helps get children excited about education and thus increases enrollments in primary school.
On a regular work day, I perform activities with children to help build their social skills and teach them the basics they need to be ready for school. We welcome everybody, and in particular give special care to children with disabilities.
One of the children who joined us a while ago is Rania, a 5-year-old and very sweet little girl. Her mother tells us that before enrolling in ECCD, Rania always refused to talk or express herself. She wasn't able to count to ten, didn't know names of familiar animals, wasn't able to identify names of many common objects to her surroundings and wasn't able to put sentences together correctly. Her mother came to realize that she was significantly behind in language development.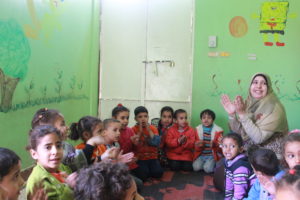 As a mother, she was willing to do whatever it took to help her daughter. She thought that a preschool might be the answer, and so decided to enroll Rania in a Save the Children supported preschool. As Rania's new teacher, she explained to me her child's issues and that she believed Rania had lost her self-confidence due to the laughter and criticism she endured from her peers. My biggest challenge with Rania was that I needed to avoid the same thing happening twice, so I had to welcome her very carefully, building her capacity using ECCD's multi-activities package which is designed to promote the cognitive, physical, language and psycho-social skills of children her age.
I talked to her about the activities that the children here do to figure out what she loves best. She asked to play in the art corner and after she'd finished her drawing I asked her to describe it. I encouraged her to talk by giving her the impression that I understood her comprehensively. Gradually, I started to correct her and teach her the proper pronunciation of letters. In this way, her language skills developed as did her comfort in the classroom.
She began participating in our classroom's reading corner, where she enjoyed reading and acting stories out in front of the other children. With her self-confidence rebuilt, she started to take part in the collective games, like playing with, and sharing, blocks and preforming plays with the other children.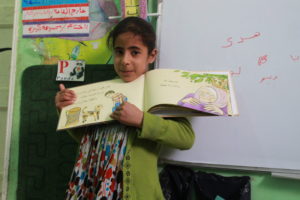 Now, Rania is able to clearly communicate and understand the others. I feel so happy for having a positive impact on her life. I felt responsible for her since the moment her mother came to me asking for help. I doubted myself at times, but the trainings I had received with Save the Children built a solid foundation that I relied on, and continue to rely on. Many of the mothers in our village turn to me whenever they face problems with their children. Now, I'm proud to say that Rania is looking forward to moving onto primary school next year!
Interested in joining our community of sponsors? Click here to learn more.