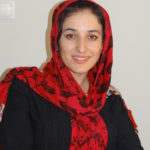 Nooria Azizzada
Early Childhood Care and Development Officer
Save the Children in Afghanistan
August 4, 2016
Turaan Big lives in the city of Maimana in Faryab province. He is a playful and active three year old – one of the 400 children enrolled in Save the Children in Afghanistan's school-based Early Childhood Care and Development, or ECCD, programs. Thanks to sponsorship funding, children ages 3 – 6 can attend classes at the ECCD center in their community that help them develop their physical, cognitive, socio-emotional and language skills.
Turaan Big's father is a nurse in the Faryab city hospital and his mother, in addition to taking care of him, works as a teacher at the ECCD center he attends. Together they live in a big joint family compound, with his grandparents, two uncles, two great-aunts, his uncle's wife and three cousins.
Turaan Big attends his ECCD classes 6 days a week and loves to play with the wooden blocks at the center, carefully pilling the various shapes and colors up on top of each other. He also likes practicing his writing and playing games with the other children in his group, both in the classroom and outside on the ECCD center playground. He is a very respectful and conscientious young student, always counting out the number of toys or wooden blocks, one by one.
His mother enjoys speaking about her boy and the growth she has seen in him since joining ECCD. She tells us, "Turaan Big is a very active child in the ECCD group. He is trying to learn how to write his name." She smiles proudly and adds, "I love the Save the Children ECCD program. It is an excellent program and well designed for the children between 3 and 6 years old. Due to the poverty in Faryab, most of the children do not receive [proper] early childhood care. During these ages such programs are very essential."
When asked what types of things she teaches her young students, Turaan Big's mother told us, "I teach my students about shapes, numbers, the alphabet, poems and sports. Children really love the playful activities like building with blocks, listening to stories, working with puzzles, counting, reading, singing and dancing."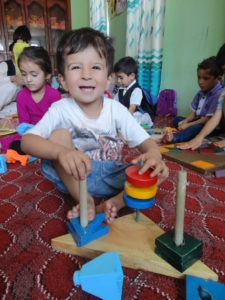 She thanks sponsors for their continued support, so that her son and the other children in their community can develop a love for learning and be prepared for primary school. "Save the Children has given great opportunity for our community and everyone is hopeful that their children will have bright and prosperous futures."
Turaan Big is clearly enjoying his educational experiences so far, and wants to be a teacher one day, like his mom.
For some, stacking and counting blocks may not seem like anything special for a 3 year old boy to enjoy. However, these seemingly basic toys hold extraordinary wonder for an imaginative young brain, in particular for children who have little, if any, toys to call their own. More than that, this active learning through play helps children this age develop important cognitive skills. What do you remember loving to do as a toddler? Share with us what activities capture your own young children's imagination!
Interested in joining our community of sponsors? Click here to learn more.