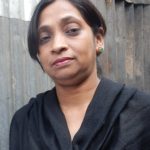 Nazma Akter
Sponsorship Program Officer
Save the Children in Bangladesh
August 23, 2016
"It's for the first time. A letter to such a little child is not only a new experience for us, but also a great joy for us." said Sufia, age 27. Her two-year-old son Sabbir has just received a letter from abroad, sent to him by his sponsor.
Sufia is a home-maker and her husband, Delowar, age 32, works as a day laborer. Sabbir is their only child. Together they live in a slum settlement in the Rayerbazar community of Dhaka North city.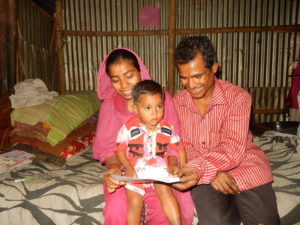 Enrolling children between the ages of 1 and 3 in Sponsorship has been recently introduced in Rayerbazar, in 2015 through our new Maternal and Child Health programming. Despite that this is a new initiative for Save the Children, the team in Bangladesh has already seen Maternal and Child Health has made sponsors excited. Sabbir received his first sponsor right after being enrolled in Sponsorship in August, and received his first sponsor letter immediately after that, in September.
Sabbir is still too young to understand what makes this letter so thrilling, but the happiness and excitement is greatly shared by his parents, despite that neither of them are literate. His mother explains, "We don't know reading and writing. But we have loved reading the letter and replying to the sponsor with the help of [Sponsorship] staff. This letter has made us feel proud, as only Sabbir in our [entire] slum got a letter. We have shared the letter with our neighbors also. We are very thankful to the sponsor."
In addition to making this connection with Sabbir's sponsor, Sufia benefits from sponsorship support by attending early stimulation parenting sessions regularly. Our early stimulation parenting program is implemented through regular home visits or monthly group sessions with parents of newborns and toddlers. During these sessions, parents are taught how to aid in their young children's development with playtime, language and communication, gentle discipline, healthy hygiene practices, feeding and nutritious foods. Parents and children alike learn with helpful learning materials, like illustrative cards and colorful picture books.
Sufia tells me, "Previously I didn't know how to take care of a young child. But now, I have learned about the needs and care, including hygiene, food and nutrition required for Sabbir's growth. Now, I can take proper care of him. We are happy to get Save the Children's support." Sabbir's mother understands the importance of the Sponsorship program in helping her community, and how sponsors' contributions directly benefit her child and family's wellbeing.
Sufia wants Sabbir to have a good quality education. She wants his sponsor to keep writing to Sabbir, so that he too can learn from these letters and one day respond to them on his own. She is happy to know that her son has the opportunity to grow up with Sponsorship in his life.
Interested in joining our community of sponsors? Click here to learn more.