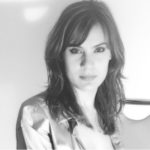 Sandy Maroun
Humanitarian Media and Communications Manager
Save the Children in Greece
August 11, 2016
As Khadji* welcomes me into her tent, she asks me to have a seat on the ground and she places her little sleeping baby Bikas* on a makeshift bed. The bed is constructed with a slab of iron, supported with iron stakes and covered with blankets.
I ask Khadji if this is the baby's bed. She gives me a small nod and says he sleeps anywhere in the tent – they don't have any other options.
As I look at Bikas, I reflect on the babies being born and raised in refugee camps in Greece – what impact will this have on their health and development? Will they still be in these camps when they turn one? Two? I can't help but wish Bikas had a quiet room and a comfortable cradle to sleep in, just like millions of other babies around the world.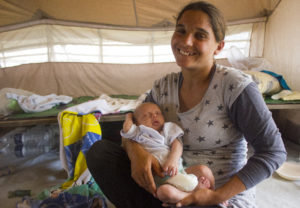 Once Bikas is settled, 25-year–old Khadji tells me her story. She speaks about the war and insecurity she and her husband and young children witnessed at home in Iraq, the shelling and the persecution by armed groups. She also tells me about the perilous journey from Turkey to Greece on a shaky, inflatable boat while she was pregnant with Bikas. Khadji reveals she was unsure that they would survive. She was terrified of losing her children in the sea, like so many mothers before her.
Khadji also tells me about her son's birth. On a warm night in the middle of June in the refugee camp, Khadji started to feel contractions that got stronger and closer together. At first she thought they were passing contractions just like other ones she had before earlier in June. However, as they intensified, she knew she was going to deliver that night. As her husband was looking for a way to transport her to the hospital, Khadji said she felt lonely and fearful. She had no family around her: no mother to comfort her and assure her that everything will be fine, no sister to wipe her sweaty face or father to support her to get to the hospital.
When finally she arrived at the hospital, her husband at her side, they found out the delivery was complicated and Khadji had to undergo a painful and long caesarian section. Not only that, her new baby Bikas was suffering from tachycardia, an abnormally fast heart rate and was only 1.5 kilograms. He had to be hospitalized for ten days. Khadji told me how worried she was that Bikas wouldn't survive.
Bikas did survive. But Khadji was not able to breastfeed him while he was in hospital and he wasn't putting on weight quickly enough.
Breastfeeding is the best option to ensure babies receive the nutrients they need to survive, grow and develop. But, breastfeeding is challenging in a refugee camp as mothers live in a stressful environment and face social and economic hardship. They lack a private, quiet and relaxing space to breastfeed and spend quality time with their babies allowing them to create a bond with them.
Khadji tells me how determined she was to breastfeed Bikas following his recovery and discharge from hospital. She then explains how she visited Save the Children's Mother and Baby Area in her camp in search of assistance. Save the Children's team helped Khadji to start breastfeeding again.
"A container with milk was attached to a tube which was taped to my breast. So while Bikas was sucking my breast, he was getting milk from the tube. It helped me get my milk back," Khadji explains.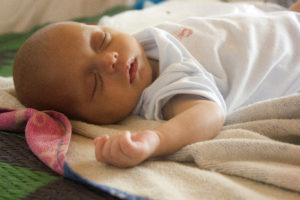 She proudly tells me that it has been six weeks that she's been breastfeeding Bikas several times a day and that she's happy he now weighs 3.5 kilograms.
Save the Children's nutrition programme in Greece supports mothers and their young children by providing a quiet, private and relaxing space to breastfeed babies, and advice and counselling on infant and young child feeding practices. Skilled counsellors also work with mothers having difficulties breastfeeding and help them continue to breastfeed.
I find Khadji's awareness and determination remarkable. Despite the harshness of life in a refugee camp far from her home and family, Khadji is trying her hardest to breastfeed her baby and give him the best start in life.
I wonder about Khadji in a different setting. In a beautiful home raising her three young and healthy sons who go to school every day; living with her husband who has a stable job and who surrounds her and their children with care. Hopefully, one day soon, this will be Khadji's reality.
To help us reach more mothers and babies like Khadji and Bikas, please donate to our Child Refugee Crisis Relief Fund. 
Save the Children's nutrition program in Greece is funded by the United Nations Refugee Agency, the European Commission's Humanitarian Aid and Civil Protection department, Probitas and UBS.
*Name changed for protection