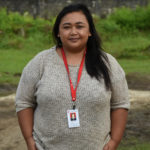 Erniatun Hartini
Sponsorship Communication Officer
Save the Children in Indonesia
August 18, 2016
Poor hygiene is one of the serious problems facing children in Indonesia, especially in remote areas, where there is a high incidence of disease. Save the Children in Indonesia addresses this problem by working to increase children's understanding of personal hygiene and health, in areas like Melania's community in Sumba where children lack essential knowledge on how to live a healthy lifestyle.
Under the guidance of Sponsorship's School Health and Nutrition programming, we help schools form "Little Doctor" groups. Through the Little Doctor program, students are encouraged to become agents of change in their school to promote clean and healthy living amongst their peers.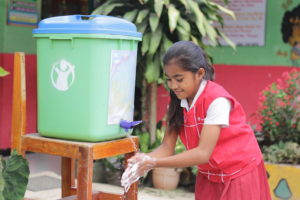 "I am proud and thankful for Save the Children," Melania, one of the Little Doctors, tells me. She then confidently explained the program, while showing a flipchart the students use, called the Hi-5 or 5 Behaviors to Keep Clean and Healthy, to promote good health and hygiene in their school. "This is a very good program. Becoming a Little Doctor gives me very important knowledge on clean and healthy behaviors. Before this program, me and many of my friends never gave much thought to the idea of hygiene and living healthy. I believe that everybody desired to live a healthy life. And healthy living should be started by doing simple things such as washing your hands. It is important to keep yourself clean and healthy, especially before you eat."
Together with her friends, 13-year-old Melania actively promotes clean and healthy behaviors every day. The Little Doctors implement health education activities, such as monitoring the cleanliness of their classrooms, latrines and the school environment. She tells us she will never forget to remind her friends to wash their hands with soap and to put their trash in the trashbin. And she admits that promoting a healthy lifestyle is not easy! She tells us many of her friends still do not understand the importance of washing their hands with soap, since this concept is still so new to them. However, she never gives up in dedicating herself to her role as a Little Doctor, and feels the responsibilty to continue promoting clean and healthy behaviors amongst her friends and family.
The Little Doctors program is so successful because it implements peer-to-peer education activities, which allow children to learn from each other. To ensure the benefits of the program are both sustainable and widespread, group members are only active for about two years before they graduate from the program. This allows the school to continuously train more Little Doctors and likewise have an impact on even more children.
Interested in joining our community of sponsors? Click here to learn more.