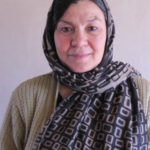 Hamida Khalilyar
Early Childhood Care and Development Assistant
Save the Children in Afghanistan
July 28, 2016
Sponsorship started their programs here in Afghanistan in 2008. Thanks to that, in the rural area of Qaisar district in Faryab province, an Early Childhood Care and Development (or ECCD) group now meets twice a week. These children, between the ages of 4 and 6, develop their physical, cognitive, socio-emotional and language skills through games, songs, storytelling, reading and group interaction, with the help of volunteer facilitators from their community trained by Save the Children.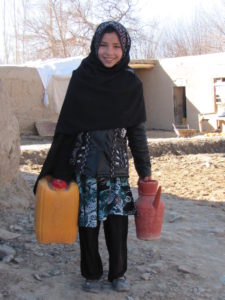 One of these volunteer facilitators is 12 year old Nazdana, a very friendly girl who loves to play with the children and graduated from the ECCD program herself when she was younger. She is talented and active in her studies, currently enjoying grade 7. Her teachers like her because she is intelligent and behaves positively with her classmates, skills she gained from her own years in ECCD.
Nazdana tells us, "I am very lucky that I attended the ECCD group as a child and learned many things, which helped me to be an active student. I hope that I will achieve my goal to be an active teacher." She continued, "As a child I was a very shy girl and never asked questions, but after I joined ECCD, I was motivated… I became an active child even on [my] off-days."
She lives with her farther, a farmer, her mother and 4 siblings, two of whom, her youngest sisters, currently attend the ECCD group. In this community, many children are busy with house chores and helping to support their families, drawing them away from their studies. Nazdana also works around the house, such as by feeding the animals or fetching water, but makes sure to make time for her studies and her volunteer work with the ECCD program too.
Her mother also participates in the community ECCD programs, through the Parenting Skills Education group, which helps parents and caregivers learn important child-rearing skills. The group of parents is facilitated and supported by Sponsorship as well. Participants are usually parents of the children attending the ECCD groups, and learn how to create similar, child-friendly environments at home.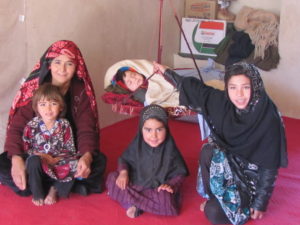 Nazdana's mother told us, "I am not educated but I wish my children to be educated, thus I am very happy and grateful to Save the Children for their efforts, and their useful programs for the development of our children." She added, "I wish [that] Save the Children can continue, where people are marginalized and in desperate need for these important programs."
Nazdana and her family are a testament to the long-term successes of our Early Childhood Care and Development programs. In partnership with community members, our ECCD programming equips parents and caregivers with the skills and knowledge to support their children's early learning. Through interactive activities like songs and games, and the help of happy volunteers like Nazdana, children develop a love of learning and are far better prepared to succeed in primary school.
Interested in joining our community of sponsors? Click here to learn more.