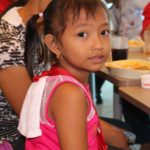 Jecel
Sponsored child from Camanava, Philippines
Translated and assisted by Sponsorship Staff
July 6, 2016
My name is Jecel, I am 6 years old and I am presently attending kindergarten. It is not every day that I have the chance to talk to other people besides my parents, teachers and friends in school. I always stay at home whenever I don't have classes.
One day, a Save the Children community volunteer knocked on our door to say that my sponsor, Philip, will be visiting me and my community. At first I didn't know how to react, because I have only met him through his letters. I got nervous, too, because I am not good at speaking English, even if it is my favorite subject in school. I am also shy when talking to others.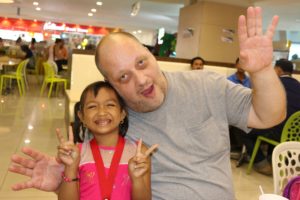 The feelings began to slowly change as I imagined what my sponsor looks like in real life, from one of the photos he had sent me. I also visualized what he will be like from the way he sounded in his letters. The fear and shyness was replaced by excitement and I found myself asking, "Is he a real person?"
The big day arrived in July! I had a lot more questions in my head, such as "How can I talk to him?", "How can he understand me?" and "Will he be happy to see me?" As we arrived at our meeting place, no words came out. I never thought that my 'magical friend' (this is how I refer to him most of the time) is really real!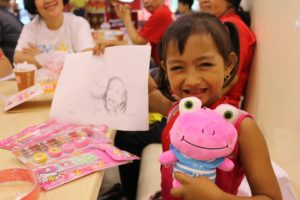 We played games at the game center and won prizes. We had lunch at my favorite fast food restaurant, and we ate fried chicken and spaghetti. He had lots of stories to share with me and my mother. He never failed to make me laugh, and he taught me things about animals. He even made the animal sounds and helped me learn them from the noises they make. He also showed me photos of wolves, grizzly bears and different kinds of snakes using his cellphone. We talked a lot about his job, and I really admire how he shares his blessings with children like me.
Everything happened so fast that day and it was like magic. I felt then that I was the most important child in the whole world.
Meeting him inspired me to study harder and to become a good person when I grow up. I want to become like him, so I can help other children who are in need. I will really treasure that dream-like visit forever.
Interested in joining our community of sponsors? Click here to learn more.