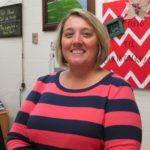 Crystal Chambers
Sponsorship Liaison
Save the Children U.S. Programs
June 15, 2016
My name is Crystal, and I would love to share with you what it is like to be a Sponsorship Liaison for Save the Children here in the United States. I have been fortunate enough to work for Save the Children for the last seven years. I was hired to be both an in-school and after-school tutor for the literacy programs Save the Children partners with my schools to deliver. Two years ago, when a position opened up with Sponsorship, I stepped into the role of Liaison!
As the Sponsorship Liaison for two schools in my community, I can say 'blessed' is an accurate way to describe how I feel about my job! When I walk through the school doors, I am always greeted by children eager to see me, and wondering if they received any letters from their sponsors. The joy on their faces is what I look forward to when I start each day.
The children in our schools are in desperate need of love and attention. Many of them have parents that are not around or are in jail, so the responsibility of raising them is passed off to other family members. Sponsorship works with our schools to help fill this gap by having wonderful sponsors write letters to these children, having caring staff members deliver those letters, and helping children to reply.
When I meet with children who have letters from their sponsors, they are excited to know that someone cares for them. It makes them feel special to know that someone has taken the time to write.  That is why they are so eager to spend time with me! When I sit with them while they write their responses, the kids want to share everything with their sponsors. They are so tickled to know someone is interested in what they have to say! So while their situation at home doesn't change much, they know they have a friend in me and a sponsor somewhere that is a friend as well.
Having Sponsorship care about our community and our children means something to us. It means something to the family members caring for the kids. But the most important thing is that Sponsorship means something very special to the kids we are helping.
When I think about Sponsorship and the benefits of having our schools be a part of the program, I know that we are a lucky group of people. I take my job very seriously, and I devote a lot of time to making sure things are done correctly. The kids at the two schools I support are important to me! To give anything less than my all would be taking from the children, and I am not going to deprive them further. I have a passion to help these kids. They are like my own, and I take a lot of pride in that. Being a Sponsorship Liaison is more than just a job or a title. It's about trying to make a difference in the life of a child. In the end, when everything is said and done, if I have only helped one child then I know I made a difference. I love my job!
Interested in joining our community of sponsors? Click here to learn more.