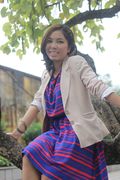 Tran Bich Phuong
Field-Based Project Assistant
Save the Children in Vietnam
January 4, 2016
One of the most rewarding bonuses of my job is that I can see with my own eyes how our programs can affect one particular child. 
On my second day, as any excited rookie might feel, I fell into worry knowing that my job was not going to be easy. Thuy, the girl whose sponsor's letter I was delivering, was a very shy girl who could not or did not care to say a word to my colleague and me. I have had some poor experiences working with children her age and circumstance. She was only 6, spoke very basic Kinh (the common language in Vietnam,) wrote even less and might have never met any strangers before in her lifetime. Though she said she was very happy to receive a letter from her "big friend" [Sponsor] in a faraway country, she seemed to struggle and showed very few signs of enjoying writing. It took us nearly one hour and a lot of effort to help Thuy to reply to her sponsor with a letter of just 40 words.
Over the next several months, my trips to the field lessened but the image of that little girl still appeared in my mind. I wondered how she was and whether she was less shy and smiled more. Though we were now using community volunteers for most of our letter delivery, a letter from Thuy's Sponsor caught my eye as it made its way through our office and I took the chance to see her again.
Even though it was a weekend and I was not supposed to work, I felt so excited for the opportunity. After one hour travelling by motorbike along a terribly rough road, crossing two springs and countless mountain slopes, I arrived at Thuy's house. I waited a bit for her while she was out playing with her neighbor friends across the hill. When she returned home and saw me, her smile was replaced by a look of reservation. I thought to myself, "Again this will be me sweating through my attempts to talk to and get closer with her, while the poor little girl remains silent as if I were not there." I would spend the whole day there, I thought, doubting myself.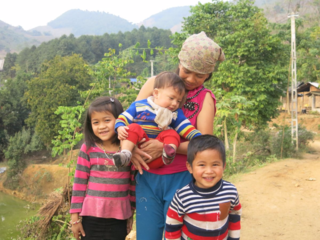 To break the ice, I suggested Thuy let me take a picture of her. She then surprised me and proved she was not as nervous as the last time we met! She actively asked me to take a picture of her with her friend, her mom and brother, and also with Ron, the dog. She smiled and posed very naturally! Knowing that I came along with a letter, she became enthusiastic to see it and then read it with unconcealed happiness. Although she was still struggling a bit with her reading and writing skills and it took quite some time to help her compose her letter, it was not so difficult to pull the words out of her this time and she was visibly enjoying herself! It was a pure delight knowing Thuy actually liked to write and to be written to. Thuy even asked me to spend a night with her family, which surprised me the most!
Was Thuy's positive change the result of our activities and the interactions between her and her sponsor? I realized I could never know for sure. However, I do know that she surely enjoys writing letters now. Knowing that there is someone out there who cares and wishes her well puts a smile on her face. And what else could be more important than a child's smile?
Interested in joining our community of sponsors? Click here to learn more.