Seifu Asseged
Communications Coordinator
Ethiopia's Somali Region
February 18, 2016
I will never forget the smell.
The stench of rotting animal carcasses, spread across the barren land.
I remember watching large animals – cows and donkeys – take their last gasping breaths.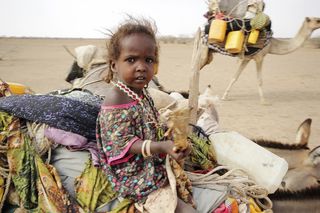 After months without rain there was nothing left for them to eat – the grass and tree leaves they normally lived on had all but disappeared. The worst drought to hit Ethiopia in more than 50 years had left them too weak to live.
It was more than three months ago, and yet I can still remember that smell vividly. It was everywhere.
I was born here in Dire Dawa in the east of the Ethiopia. In a few devastating weeks last year, the surrounding areas lost more than 100,000 of their livestock. Pastoral families are still feeling the impact.
I work in these areas, travelling regularly to see the communities hit hardest by the drought. Yesterday I met a group of six families who'd walked for three days to make it to a dusty roadside in the middle of the desert.
Here government water trucks would bring them water every second day, and they received food rations of various grains – a far cry from the camel milk and fresh meat they were used to eating.
A few skeletons remain, but most of the dead livestock have been cleared and destroyed as part of a Save the Children cash for work programme.
Now the challenges are different, and the needs even more pressing.
Six months ago the number of people in need of food aid in Ethiopia was 4.5 million, but that figure had increased to more than 8 million by October. Now it stands at 10.2 million.
What's more, 400,000 children could fall prey to severe malnutrition in 2016.
Save the Children is among the main aid agencies screening for and treating severe malnutrition, but as long as they are returning home to families who are relying on food aid, I worry that children will remain at a terrible risk.
It is heartbreaking to see my homeland, and my people, suffering so much right now. I have never experienced anything like this drought before.
People tell me they don't understand the weather any more. When it rains, it comes in patches. And while, in the midlands of Ethiopia, areas are still green and lush, some communities I visit haven't seen rain in almost two years.
Part of my job is to document the drought and those people affected by it – to share their stories with the rest of the world.
After one assignment last August, my team discovered an entire community in desperate need of water. Within days I had organised for large quantities of water to be trucked to that area, reaching thousands of people.
Sometimes telling these stories can bring vital, practical outcomes for people in need. Sometimes they change the world.
I hope this story will fall somewhere between the two.
To learn more about our response to the Ethiopia Drought, click here.