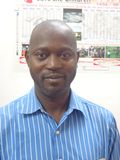 Adama Soro
IT Manager, Bamako Office, Save the Children Mali/Guinée
Mali
November 23, 2015
Adama Soro is the IT Manager at the Bamako Office of Save the Children in Mali and Guinée. Recently he travelled to Sikasso, the sponsorship impact area we work in here in Mali, to train sponsorship field agents on collecting child data electronically with a tablet.
For the first time ever, the sponsorship team underwent our child enrollment process using the tablet. To explain a bit more about our process, each child enrolled in our sponsorship program has a form that contains biographical information about him or her and allows the field worker to identify the child through his or her portrait photograph. Each year, new information on all the children enrolled in sponsorship is collected and updated in our sponsorship database. This information is used to populate an annual report on each sponsored child for his or her sponsor. This update includes information such as their current grade, favorite subject, daily activities, dreams for the future, favorite activity or game and the different programs that he or she participated in during the year. The field workers also take a new photo of the child. This new tool will help avoid any child data confusion.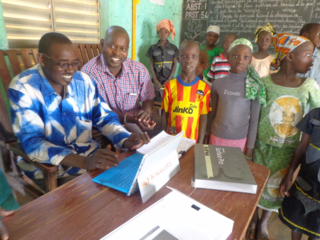 After the theoretical training was conducted at the Sikasso office, the sponsorship team, along with the IT manager and staff who work in the field, travelled to the impact area for the first live test of our new technology. Niena was chosen as the first test community, located about 75 kilometers from Sikasso. The data collection is always done at schools in the community. We searched for the children by name in the tablet and used their stored picture, now easily viewable on the tablet. The child then confirmed if it is his or her photo and we started to update the child data electronically.
Each field worker did a test using the tablet for at least one child. They found that the electronic data collection is much faster and more efficient than paper collection. The whole team looks forward to gaining familiarity with this new technological tool in sponsorship: the tablet.
Interested in joining our community of sponsors? Click here to learn more.