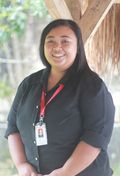 Erniatun Hartini
Communication Officer – Sponsorship
Indonesia
November 16, 2015
Arninda, a third grader in West Sumba, Indonesia, beamed with excitement as a Save the Children staff member delivered a letter to her, knowing that she just received something from her Korean sponsor. She proudly showed the letter to her friends in class and teacher.
"I always wait for Save the Children staff to come here and to deliver a letter from my sponsor. I am proud to be a sponsored child. Every time I receive a letter, I always show it to my friends and I cannot wait to show the letter to my parents at home. They are proud of me since I have a friend abroad through Save the Children's sponsorship program. I call my sponsor a 'friend'," Arninda said enthusiastically.
As she read through her letter, Arninda's eyes shone brightly. Her Korean friend congratulated her achievement in school during the last semester, for achieving first rank with the best grades in her class. "I heard that you achieved the first rank in your class during the last semester. Congratulations! Honestly, I have never had scores so high. I am so proud of you!" Arninda's voice trembled with excitement as she read the praise aloud.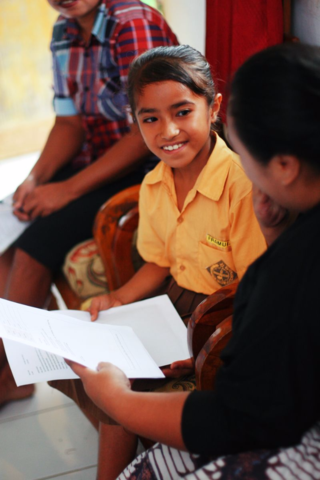 The letter has motivated Arninda to study even harder. She is very happy to be supported by a caring and loving sponsor. Although she walks over a mile to school everyday, it does not matter to her anymore. She never complains even though it is always difficult during the rainy season. Her spirit to study harder grows with the knowledge that she is so well supported by Save the Children's programs. She wants to make her parents and also her sponsor proud.
Arninda also said that she would like to learn English so that someday she can write a letter to her sponsor in English. She wants to show her gratitude to her sponsor in this way. She has already learned some English words such as "hi" and "thank you" to get ready.
Arninda is a smart and clever student. Her teacher says she is a fast and enthusiastic learner. She never leaves class even when its raining and the road is slippery and she never loses her enthusiasm to study. Arninda shares that she wants to be a teacher. "I am inspired by my teacher to share my knowledge with others. I want to stand in front of the class and teach, like my teacher does. Being a teacher is an awesome job… I want to make Sumbanese children smarter by receiving a better education."
Interested in joining our community of sponsors? Click here to learn more.