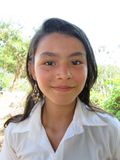 Tatiana
School Health and Nutrition Brigadier
El Salvador
November 2, 2015
Today was the first meeting of the year for our School Health and Nutrition brigade at my school in El Salvador. I couldn't attend because I was taking care of my youngest siblings, but my sister did and she told me they chose 3 new members for the brigade. They are all 5th grade students. That brought me really good memories of the day I was chosen by my classmates, because I was also in 5th grade. I've been a brigadier for 2 years now! Just as they did today, my classmates voted for me to be part of the school brigade, and I accepted because I've always liked to learn new things and to share the knowledge with other kids.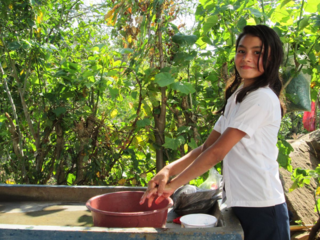 I'm currently studying in 7th grade and I'm 12 years old. In all the time I've been part of the school brigade, I've learned how to teach my classmates to properly wash hands and to always keep our school clean. We also advise them to eat healthy food instead of junk food, so they can stay healthy.
As part of the school brigade, we have the opportunity to improve things in our school. For example, last year we had the idea of building a fence around the school perimeter to improve security. We presented the project to Save the Children and they said it was possible to do it. As a result of that, now we have the fence and only students can get in. We all feel safer now.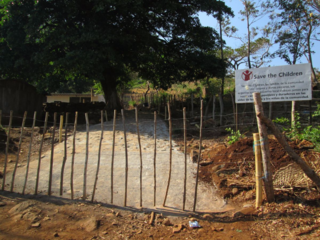 I like being a brigadier because I learn a lot of good things. My parents tell me this will help me in my future. When I grow up, I want to be a lawyer, so I can help other people. Now I'm also better in other things such as speaking in public with no fear. And I can teach my siblings to wash their hands before eating and after using the latrine.
Finally, I want to tell all sponsors that we're very happy to know they support our community. I'm always excited when I receive letters from my sponsor, because she tells me about her life, about her puppy and that she is engaged. I think something that sponsors could share with us is how they decided to become a sponsor.
I know there are still more things to improve in my school, that's why my sister and I will continue to be part of the School Health and Nutrition brigade, so we can make more projects and teach good things to all the children in our school.
Interested in joining our community of sponsors? Click here to learn more.