Mona Mariano
Sponsorship Manager
T'bolis Village, Philippines
August 24, 2015
In one of the southern parts of the Philippines where Save the Children works, you will find the colorful tribe of the T'bolis. Upon visiting their community, you will notice the assortment of distinctive and colorful clothing against the green backdrop of the hills. The native clothes of the tribe, made of T'nalak, make the brown complexion of the people shine.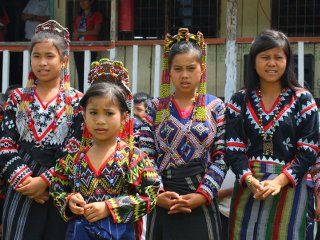 The T'nalak cloth comes from the leaves of abaca, dyed and meticulously weaved. The intricate interlacing of bold colors is a recognized community craft. The cloth is revered and can be seen in special ceremonies throughout a person's life span, such as child births and weddings. 
The typical T'boli textile is history in itself. The unique patterns of the costumes are born from deep-rooted rituals that are passed from generation to generation. The weaving is a tedious job and would take women several months to finish one complete design. The patterns conceived by the weavers are believed to be imparted to them in dreams from their ancestors and from the spirit of the abaca called Fu Dalu. Because of this, the T'nalak makers are also known as the "dream weavers".
Only women are allowed to lace the T'nalak. Men are forbidden to handle the abaca fiber until the weaving process is complete. There is also a saying that the weaver should not couple with her husband during the weaving time because it may cause the abaca to break or destroy the design sent across a dream.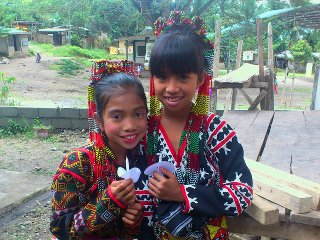 T'boli communities observe the T'nalak festival annually in July, during the foundation anniversary of their province of South Cotabato. During this festivity, colorful street dancing can be seen throughout the cities with performers decked in native costumes of the various tribal groups.
As a people who value rich cultural heritage, T'boli women and men learn to adorn themselves with their native costumes from early childhood. Aside from their wonderful T'nalak outfits, men wear turbans and women are garlanded with hair accessories, combs, and colorful beads. In their very simple lifestyle, these traditional adornments markedly stand out and are a source of community pride.
Interested in joining our community of sponsors? Click here to learn more.