April Sumaylo
Media Manager
Save the Children in the Philippines
November 10, 2015
I was expecting chaos when we landed in Tacloban the day before Typhoon Haiyan hit the Visayas, but clear skies prevail throughout the day. It was business as usual for the region's capital city. There was no indication of an impending danger.
As the team traveled through the city to meet with the local disaster councils and officials, I saw people looking out on the quiet sea. "The calm before the storm," my colleague whispered. It struck me. Are people really ready?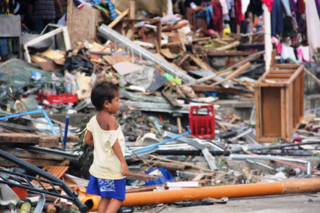 Then, dawn came. Until now, many would still ask me, how does an unprecedented category 5 super-typhoon look like?
At 4:30 am of 08 November 2013, the winds grew violent. We woke up early to film what was happening from our windows. Not long after, we finally came face-to-face with the deadliest storm I would probably ever witness in this lifetime. One by one, metal gates of the building opened and windows cracked in seconds. Our roof gave in to the deadly wind and water started gushing in. There was zero visibility everywhere.
As we hid under the sturdy tables, our team feared for small children who must have been so terrified with the growling winds. We were fortunate to be housed in a very strong structure. We were all safe and uninjured, but what about children living in flimsy homes and those who live in unsafe areas by the sea?
Then after 6 long hours, there was silence.
We immediately walked outside to talk to the people. Our worst fears were confirmed: we saw hundreds of bodies piled up by the shore, and children scavenging for food. Everywhere we go, we see miles of destruction. Nothing was spared.
At the famous astrodome in Tacloban City, I met 11-year-old Rafael who was trying to open a can with a rusted knife. Just two days after the typhoon, he built a makeshift home out of scrap to protect his mother and seven siblings. Rafael had just lost his father when he was hit by a collapsed wall in the middle of the typhoon. His voice was trembling when he said he "tasted" the blood of his father whilst trying to save him. He told me it was a miracle that he was alive as he swam his way through to reach the next village. His mother told me that they don't know where to start.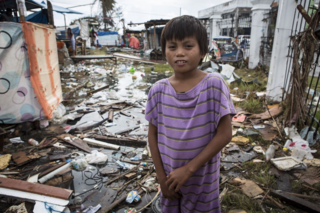 When I finally returned back home in Manila, people saw me as a survivor. However, from my perspective as a mere outsider in a community that was ravaged by the strongest typhoon to hit land, I saw it quite differently. Truth be told, Rafael and million others are the real survivors, as they are the ones who had to suffer with the devastation that I could barely put into words. They remind us of the massive needs on the ground and they drive Save the Children to deliver lifesaving aid quickly to the worst-affected areas.
Two years into the response, serious work has been done, and a lot has changed. Save the Children has reached close to 900,000 people, including half a million children with lifesaving aid and rehabilitation assistance. We have distributed families food and clean water; provided primary health care; repaired schools and health centers; and provided families and children with the much needed shelter and livelihood assistance. Behind the numbers, we see children whose lives have been changed.
But does it all end here?
"Haiyan" was the most powerful typhoon the world has ever seen and we knew that rehabilitation will take time. Save the Children will continue to support some of the most vulnerable children and their families as they get back on the feet. When asked why I started writing my story just now, I tell them that it is difficult to write something that remains unfinished. Needs are still enormous on the ground and we should continue working together write a better version of the aftermath.