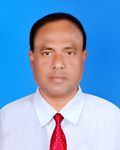 Dilip Biswas
Sponsorship Field Officer
Bangladesh
October 12, 2015
 I love every time I convey the news to the children and their families. As a part of the Save the Children Sponsorship team in Bangladesh, I have visited many villages to greet children with the amazing news of new sponsor assignment. I feed proud to do this job for so many children.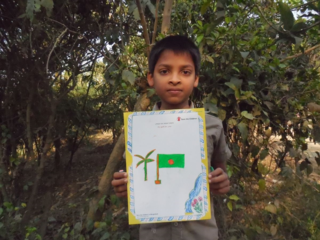 For this trip I started for Govipur village by motorbike to deliver the news to a boy named Nafiz and his family. I reached their village crossing narrow paved roads, heading 4 miles west of the Meherpur District headquarters.
Nafiz was enrolled in our programs, but until then was not yet sponsored. When I stopped my motorbike in front of their house, he came out with a smiling face, his mother also approaching as if expecting some good news. I told them that Nafiz now has a sponsor from Korea who will wait for something from Nafiz! So he can write about his favorite things and draw something to send to his sponsor far away.
Nafiz was delighted and sat down on the bamboo bench in front of their house to draw something for his sponsor right then. He drew the flag of Bangladesh and wrote about his favorite games, best friend in school and how he wants to be a doctor. He happily expressed to me that he thought his Korean friend will like this.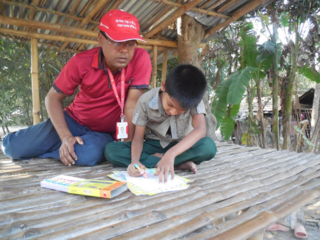 Nafiz's mother told me that Nafiz has been benefiting from Save the Children's programs for two years, since he was in Grade 2. He says he enjoyed Literacy Boost, a reading program we offer, very much. His mother feels proud that the contribution from Nafiz's sponsor is supporting the implementation of education and health program activities for many children in Nafiz's school and village.
Nafiz's enthusiasm for writing something for his sponsor and waiting for a response deepened my feeling that I am working to make children happy and excited each day.
Interested in joining our community of sponsors? Click here to learn more.